Marika Hughes with Paul Katz.
Emanuel Feuermann (1902-1942) was almost universally recognized during his brief lifetime as a peerless master of the instrument. Artur Rubinstein said "Feuermann became for me the greatest cellist of all time", Jascha Heifetz accepted him as the first cellist worthy of serious collaboration, and would not play with another for nine years after his death. He was the cellist of choice for conductors including Toscanini, who described him as "the greatest" and said that "there is no one after him" and Szell, who said that he played with "…noblesse and distinction, and with the complete equipment in the service of an artistic purpose." His premature death during routine surgery in 1942 at the age of 39 brought his career to an end before he had a chance to establish the type of widespread fame that Heifetz and Casals secured, but even today -more than half a century after his death- there is a clear consensus, among cellists who were privileged to hear Emanuel Feuermann play and among those familiar with his recordings, that Feuermann was a cellist without equal. His graceful, elegant playing shows both a warm, Kreislerian musicality and a fluid and facile command of the instrument that most cellists agree has never been approached since.
–Excerpted from Brinton Smith's dissertation "The Physical and Interpretive Technique of Emanuel Feuermann"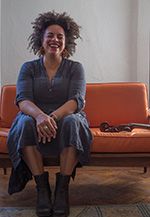 Emanuel Feuermann's grand-daughter Marika Hughes is a cellist, singer, composer, song-writer and teacher. A native of NYC, Marika was exposed to a varied creative life from an early age. Shortly after completing her studies, Marika left NYC and moved to San Francisco, CA. where she began to explore a musical life outside of the western classical tradition of her childhood training. In addition to playing in the Berkeley and Santa Rosa Symphonies, she joined Quartet San Francisco and  performed and recorded for a host of artists and films. In 2006, Marika moved back to NYC where she enjoys playing with many local musicians she has long admired as well as some superstars: D'Angelo, Whitney Houston, Mary J. Blige, Sean Lennon, Valerie June, David Byrne, Lou Reed, Ani DiFranco, Imani Uzuri, Charlie Burnham, Anthony Braxton, Toshi Reagon, Adele, Aruan Ortiz, Nasheet Waits and Henry Threadgill. Marika has appeared on The David Letterman Show, The Jimmy Fallon Late Night Show as well as Saturday Night Live.
CelloBello wishes to thank Marika Hughes for sharing her personal family remembrances celebrating her immortal grandfather. The daughter of Feuermann's only child Monika, these candid, honest stories were passed down through her mother, her grandmother Eva, and her aunt Sophie, bringing uniquely personal and valuable insight to our cello community.