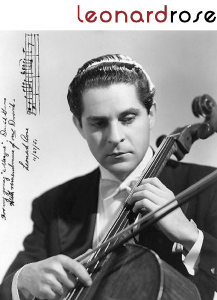 by STEVEN HONIGBERG
(National Symphony Orchestra, Potomac String Quartet)
[excerpted from "Leonard Rose, America's Golden Age and First Cellist"]
Leonard Rose's exquisite artistry as a soloist, chamber musician, and orchestral player touched the lives of thousands of musicians and music lovers- yet none so profoundly as the roughly two hundred and fifty individuals entitled to call the great cellist, "my teacher."
His teaching career began at the Juilliard School in 1947. Four years later, Rose added six cello pupils at his alma mater, The Curtis Institute; and until 1962, he routinely commuted between New York City and Philadelphia to teach. From 1979 to Rose a a superb teacher- kind, patient, encouraging, and exacting.
"Pure gold."  Thus the New York Times described the playing of Leonard Rose, the most successful American-born cellist of his generation. Rose's knowledge of the instrument was unsurpassed. Every phrase of every piece he recorded – his legacy –  continues to sparkle with meaning. His Beethoven and Brahms were noble in style, favoring huge dynamic contrasts and rhythmic freedom.  His Schumann and Schubert each had a semblance of epic beauty. His Bach could be transcendently romantic and powerful. His signature concerti had a consistency, accuracy, and no-nonsense approach. And, notably, he performed works by living American composers, a tendency many of his peers shunned.
Few interpersonal experiences rival the intimacy of a master artist's lesson. Rose served as a father figure who bestowed undivided attention to those pupils who desired and warranted it. His verbal instruction may have lacked magic, but the way he played and demonstrated thrilled students. His quest for perfection hovered over every lesson. Rose instilled in us a profound respect for the composition we studied and a rich knowledge of the heritage he passed down from previous generations. Most vital of all, he bestowed us with infinite inspiration.