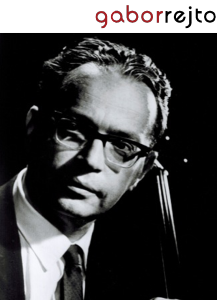 by STEPHEN BALDERSTON (Chicago Symphony; DePaul University)
Gabor Rejto was founding member of the Alma Trio, cellist of the Paganini String Quartet, and the Hungarian Quartet. Throughout his career, he played both as a soloist and in concerts with major symphony orchestras, such as Vienna, Budapest, Rome and Warsaw. His 1952 5-week New Zealand tour with Yaltah Menuhin was greeted with critical and popular acclaim.
Rejto was born in Budapest in 1916. His early cello teachers included Frederick Teller and, importantly, Adolf Schiffer — a pupil of and assistant to David Popper.
Rejto served on the faculties of the Manhattan and Eastman Schools of Music (1949-1954). From 1954 until his death he was Professor of Cello at the University of Southern California. He led the Music Academy of the West summer program for gifted cellists, and gave extremely popular master classes to cellists and chamber musicians alike.
As a performer he distinguished himself as a soloist and in the most important areas of chamber music: duo, trio and string quartet. His concert tours took him literally all over the world: throughout the United States, Canada, Australia, New Zealand, Europe, Japan and Africa.