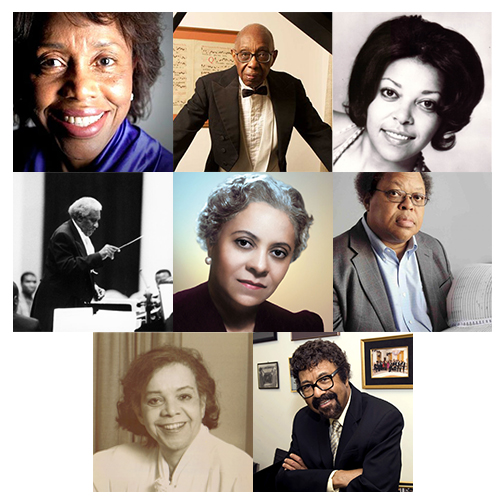 Top (left to right): Tania León, George Walker, Dorothy Rudd Moore
Middle: Coleridge-Taylor Perkinson, Florence Price, George Lewis
Bottom: Dolores White, David Baker
Welcome to CelloBello's database of Cello Works by Black Composers.
CelloBello's mission has always been to foster a global cello community, and to that end we hope this new database may help encourage new curiosities and explorations into this repertoire that, historically, has not been equally represented on our concert stages or in our music schools. We envision a future in classical music where racial equity and representation are the norm, not the exception, and hope this database might take us a step towards this vision by easing access to information about repertoire that is more inclusive of our diverse communities.
Over time we hope to expand our offerings to include a larger BIPOC database (highlighting all composers who identify as Black, Indigenous, or People of Color). However, given the urgency of the struggle for racial equity and justice in the United States we felt it paramount to begin by focusing first on the plethora of contributions made by Black composers.
The information contained in the catalog is displayed using the criteria of composers' name and personal website link (where available), as well as the works' title, date of composition, duration, and instrumentation. Although this catalog does not grant specific information about purchasing scores for all of the pieces listed, it facilitates the search of scores and provides links of contact to the composers, where applicable.
We welcome any feedback on this page, particularly information on missing works or compositional information. As it is an ever-expanding resource, please check back for updates. Contact us via francesca@cellobello.org.
We would like to thank Gabriela Diaz, Lina Bahn and their other collaborators for sharing their initial research with us—explore all their findings here, which include non-cello instrumental and chamber music repertoire. Also,  thank you to Francesca McNeeley of the CelloBello staff, for her dedicated efforts in formalizing this new resource for CelloBello.
---
ADDITIONAL RESOURCES:
| First Name | Last Name | Composition | Date of Composition | Duration | Genre | More About the Composer |
| --- | --- | --- | --- | --- | --- | --- |
| TJ | Anderson | Spirit Songs | 1993 | | Piano/Cello | |
| David N. | Baker | Impressions for 2 Celli | 1988 | 17' | Cello Ensemble | |
| David N. | Baker | Sonata for Solo Cello | 1990 | 27' | Solo | |
| Samuel | Coleridge-Taylor | Variations for cello and piano | 1918 | | Piano/Cello | |
| Tyson | Davis | Tableau No. VIII | 2020 | 4' | Solo | |
| Julius | Eastman | The Holy Presence of Joan d'Arc | 1981 | 21' | Cello Ensemble | |
| Primous | Fountain | Cello Concerto | | | Concerto | |
| Primous | Fountain | Cello Suite | | | Solo | |
| Primous | Fountain | Tango Para Cello | | | Solo | |
| Anthony R. | Green | …on top of a frosted hill… | 2011 | 13' | Piano/Cello | |
| Adolphus | Hailstork | Theme and Variations on "Draw the Sacred Circle Closer" | | | Solo | |
| Jeraldine | Herbison | Cello Concerto No. 1 | | | Concerto | |
| Jeraldine | Herbison | Five Short Pieces for Cello and Piano, Op 30 | | | Piano/Cello | |
| Jeraldine | Herbison | An Invention Upon an Airy Land | | | Piano/Cello | |
| Jeraldine | Herbison | Sonata No. 2 for Cello and Piano, Op 19 No. 1 | | | Piano/Cello | |
| Jeraldine | Herbison | Sonata for Unaccompanied Cello Op 15 No. 2 | 1978 | | Solo | |
| Geoffrey Dana | Hicks | Piece for Cello | 1973 | | Solo | |
| Chad "Sir Wick" Hughes | Hughes | First Suite for Violoncello | | 6' | Solo | |
| Nathalie | Joachim | Dam Mwen Yo for cello & tape | 2017 | 6' | Solo | |
| Eric Brian | Lacy | Three Question Marks for cello | | 4' | Solo | |
| James | Lee III | Abraham's Sons (In Memoriam: Trayvon Martin) for cello solo | 2014 | 10' | Solo | |
| Tania | Léon | Four Pieces for Cello Solo | 1983 | 12' | Solo | |
| George | Lewis | Not Alone for cello and interactive electronics | 2014-5 | 23'40" | Solo | |
| Allison | Loggins-Hull | Stolen for Solo 'Cello | 2016 | 6' | Solo | |
| Quinn | Mason | Suite for Solo Cello | 2016 | 5' | Solo | |
| Quinn | Mason | Evening Prayer for 4 celli | 2020 | 4' | Cello Ensemble | |
| Jessie | Montgomery | Cadenzas for Haydn Cello Concerto in D Major | 2014 | 2' | Concerto | |
| Carman | Moore | MADIBA | 2015 | | Concerto | |
| Dorothy Rudd | Moore | Dirge and Deliverance | 1971 | 16' | Piano/Cello | |
| Dorothy Rudd | Moore | Baroque Suite (unaccompanied) | 1965 | 15' | Solo | |
| Jeffrey | Mumford | billowing pockets brightly layered | 2000 rev. 2007 | 11' | Concerto | |
| Jeffrey | Mumford | three rhapsodies for 'cello & strings | 2009 – 10, rev. 2013 | 13' | Concerto | |
| Jeffrey | Mumford | ringing fields of enveloping blue | 1997 | 14' | Piano/Cello | |
| Jeffrey | Mumford | variazioni elegiaci | 1979-80, rev. 1997 | 9' | Solo | |
| Jeffrey | Mumford | amid fleeting pockets of billowing radiance | 1990 | 11' | Solo | |
| Jeffrey | Mumford | a focus further within | 2010 | 3'30'' | Solo | |
| Jeffrey | Mumford | to find in the glimmering air . . . a buoyant continuity of layering blue | 2011 | 9' | Solo | |
| Ayo | Oluranti | Fantasia | 2006 | | Solo | |
| Fred | Onovwerosuoke | Fantasia for Cello and Piano | | 5' | Piano/Cello | |
| Coleridge-Taylor | Perkinson | Lamentations Black/Folk Song Suite for solo cello | 1973 | 16' | Solo | |
| Carlos | Simon | Lickety Split | 2015 | 5' | Piano/Cello | |
| Carlos | Simon | Between Worlds | 2019 | 3'30" | Solo | |
| Alvin | Singleton | Argoru II | 1970 | 13' | Solo | |
| Joyce | Solomon | Elegy | 1970 | | Solo | |
| Shirley J | Thompson | Blue Iris | 1989 | 14' | Solo | |
| Shirley J | Thompson | Beyond These Times | 1990 | | | |
| Gifrants (Marcien Guy-Frantz) | Toussaint | 7 solo pieces written for the cello | | | Solo | |
| George | Walker | Cello Concerto | 1981 | 20' | Concerto | |
| George | Walker | Sonata for Cello & Piano | 1957 | 17' | Piano/Cello | |
| Daijana | Wallace | Shades | 2019 | 6'30" | Solo | |
| Errollyn | Wallen | Dervish | 2001 | 6' | Piano/Cello | |
| Mary | Watkins | Bus Stop | | | Piano/Cello | |
| Mary | Watkins | Piece for Cello | 1983 | | Solo | |
| Dolores | White | Two Spirituals for Cello and Piano | 1987 | | Piano/Cello | |
| Dolores | White | Everytime I Feel the Spirit | 1974 | | | |
| Dolores | White | Sometimes I feel like a motherless child | 1974 | | | |
| Evan | Williams | Cantigas | 2015 | 10' | Piano/Cello | |
| Pamela | Z | Four Movements for Violoncello and Delays | | | Solo | |