Princesa de hadas (Fairy Tale Princess) was commissioned by Argentine poet Patricio Méndez. The title of this piece refers to a verse from a poem by Méndez, where he describes his beloved as a "fairy tale princess." The musical material is deliberately simple, tonal, and lyrical, in an attempt to evoke the innocence and romanticism of the world created by the poet for his fairy tale princess.

The piece consists of alternating sections in minor and major modes. The former more nostalgic and evocative of romantic longing, the latter happier and playful. In the minor sections, the ¾ meter is offset just a touch, with melodic and harmonic ideas frequently coming in on the off-beat, giving the piece a rhythmic rocking quality. The melody in these sections is made out of small motives that seem almost hesitant. In the "major" sections, the rhythm is more regular and steady in the background, which allows the melody to be more expansive, lyrical and romantic.
composer
biography:
Jose
Elizondo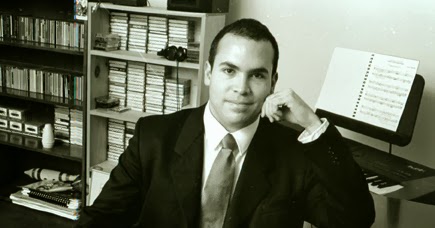 Music has been Jose Elizondo's passion since he was 5, when he began performing in concerts and participating in piano and organ competitions at a national level in Mexico. From an early age, Jose received awards and recognition from institutions like FONAPAS (Mexico's National Fund for Social and Artistic Activities) and the International Yamaha Music Foundation. Jose moved to Boston, where he received degrees in Music and Electrical Engineering from the Massachusetts Institute of Technology (MIT). At Harvard University, he studied musical analysis, orchestration and conducting. His main teachers at MIT and Harvard were professors Peter Child, Edward Cohen, Lowell Lindgren, Bill Cutter, James Yannatos, Constance DeFotis and Jameson Marvin. Jose's music has been performed by over 100 orchestras around the world. He is particularly proud of his collaboration with youth orchestras. For example, the Brighton Youth Orchestra (UK), conducted by maestro Andrew Sherwood, has performed his compositions in England, Scotland, France, Italy, Zimbabwe and the Congo. Maestro Wayne Toews has conducted Jose's music with the Saskatoon Youth Orchestra and several other orchestras in Canada in a number of performances and educational projects. Jose considers maestros Andrew Sherwood, Wayne Toews and Sergio Buslje (music director of several orchestras in Washington, Honduras and Argentina) as his most influential mentors, at a personal and professional level.