| | |
| --- | --- |
| Composer: | Jose Elizondo |
| Publisher: | Jose Elizondo |
| Duration: | 00:10:00 |
| Instrumentation: | Unaccompanied Cello, 2 cellos, 4 cellos, 8 cellos, Cello and piano, Cello and Accordion, Cello and Alto Saxophone, Cello and Guitar, Cello and Viola, Cello and Violin, Cello Violin and Guitar, Cello Violin and Piano, String Quartet, Cello and Orchestra (with or without Piano) |
| Key: | Various |
| Year: | 2017 |
| Work Type: | Unaccompanied Works, Cello and Orchestra, Chamber Music with Cello, Cello and Piano, Celli Ensemble, Cello with Miscellaneous Instrument(s) |
Danzas Latinoamericanas (Latin American Dances) is a 10-minute suite in three movements. Its movements can be performed independently. It was originally commissioned by Mexican cellist Carlos Prieto. It is based on some of the national dances of Argentina, Brazil and Mexico respectively. The first movement, Otoño en Buenos Aires (Autumn in Buenos Aires), is indebted to the concert-style tango of Astor Piazzolla, as well as the extraordinary songs of Carlos Gardel. Pan de Azúcar (Sugar Loaf) is named after the famous mountain in Rio de Janeiro. It echoes the sensuous music of Antonio Carlos Jobim and the exuberant vitality of the works of Heitor Villa-Lobos. His synthesis of the Brazilian folk tradition and of late Romantic string writing provided a major inspiration for this movement. Elizondo's creative use of pizzicato produces textures that are playful, delicate and dance-like, supporting the lyrical melodies. At other times, the syncopated motives evoke a more sentimental mood. Atardecer Tapatío (Sunset in Guadalajara) is inspired by Mexican folk dance music and the sound of "mariachi" bands. Elizondo doesn't shy away from using simple, standard forms as a canvas for his joyful melodies. This music is a tribute to the composer's homeland.
composer
biography:
Jose
Elizondo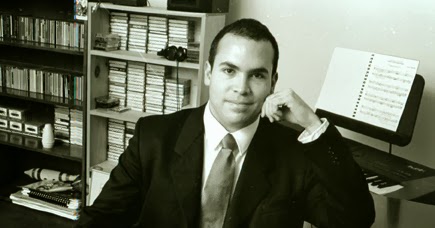 Music has been Jose Elizondo's passion since he was 5, when he began performing in concerts and participating in piano and organ competitions at a national level in Mexico. From an early age, Jose received awards and recognition from institutions like FONAPAS (Mexico's National Fund for Social and Artistic Activities) and the International Yamaha Music Foundation. Jose moved to Boston, where he received degrees in Music and Electrical Engineering from the Massachusetts Institute of Technology (MIT). At Harvard University, he studied musical analysis, orchestration and conducting. His main teachers at MIT and Harvard were professors Peter Child, Edward Cohen, Lowell Lindgren, Bill Cutter, James Yannatos, Constance DeFotis and Jameson Marvin. Jose's music has been performed by over 100 orchestras around the world. He is particularly proud of his collaboration with youth orchestras. For example, the Brighton Youth Orchestra (UK), conducted by maestro Andrew Sherwood, has performed his compositions in England, Scotland, France, Italy, Zimbabwe and the Congo. Maestro Wayne Toews has conducted Jose's music with the Saskatoon Youth Orchestra and several other orchestras in Canada in a number of performances and educational projects. Jose considers maestros Andrew Sherwood, Wayne Toews and Sergio Buslje (music director of several orchestras in Washington, Honduras and Argentina) as his most influential mentors, at a personal and professional level.