| | |
| --- | --- |
| Composer: | Aaron Minsky |
| Publisher: | Von Cello, Inc. |
| Duration: | 00:05:20 |
| Instrumentation: | Cello orchestra (7-100), 5-string electric bass, percussion |
| Key: | D major |
| Opus: | VC-301 |
| Year: | 2016 |
| Work Type: | Celli Ensemble |
From the book:
"Because it was composed at the request of the London Cello Society I wanted to give it a distinctly English flavor. I turned to the great progressive rock bands of the 1960's and 70's for inspiration and combined some of their conventions (such as blending English folk music with rock, and arranging a fugue with percussive accompaniment) with a Brahmsian sonority that would bring out the full, noble quality of an orchestra of cellos. The result is a tone poem worthy of the legendary cellists of music history.
The piece contains 6 cello sections, plus one "celtar" section (cellists holding their cellos like guitars and playing with picks). The parts range from moderate to somewhat difficult so that mixed groups can play together. The parts are also divided by range mimicking, to some extent, the sound of a string orchestra. The piece calls for an electric bass to give it an authentic rock feel (although one or more string basses may be used), and percussion, including timpani, cymbals and drums. The music walks that fine line between classical and rock that was so expertly navigated by the great "prog rock" bands of Britain who so inspired my youth.
Legends of Cellandia would be a perfect concert selection for any gathering of cellists from 7 to 100 (or more). It creates a full, satisfying sound, tingled with wit and humor that is sure to delight audiences the world over!"
composer
biography:
Aaron
Minsky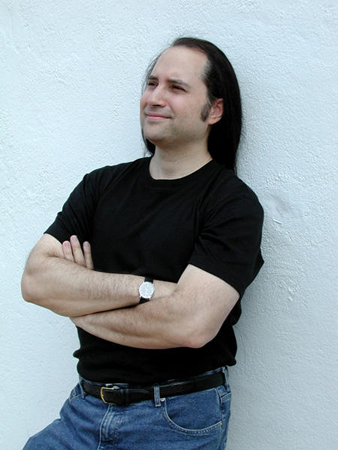 American cellist, Aaron Minsky, is among the most influential string musicians of his generation. His "celtar" style (combining cello and guitar technique) has entered the popular and classical worlds. Over a dozen of his music books are published by Oxford University Press have become standard repertoire, with his music appearing in the curriculums of the Associated Board of the Royal Schools of Music, U.K., the American String Teachers' Association, the Australian Music Examinations Board and many others around the world. Minsky composed the first classical arrangement ever approved by Ice Nine (the Grateful Dead's publisher) titled "Dead Cello" (Latham Music). He conducted the world premieres of his "Legends of Cellandia" for cello orchestra (commissioned by the London Cello Society) at the Royal Academy of Music, London, and in Melbourne, Australia. Minsky debuted his cello concerto, "The Conqueror," with the Staten Island Philharmonic; his concerto for cello and strings, "Summer Haze," with the Taranaki Youth Orchestra in New Zealand; and gave the premiere of the cello and piano version of "Summer Haze" in Cambridge, UK. Minsky publishes his music through Von Cello, Inc., distributed by J.W. Pepper, including his concertos "Ten Suite Variations on the Bach Cello Suites;" "Kadosh, Kadosh, Kadosh" for cello and chorus; "Eine Kleine Fun Musik" for string orchestra; "Mr. ASBO - The Anti-Social Swan;" and two series of works for student orchestra. Famous musicians have praised his music, including Janos Starker who said "I find these etudes excellent, innovative, intelligent, useful and amusing." A Yamaha Artist, Minsky has given masterclasses, workshops and performances in the United States, England, Ireland, Australia and New Zealand and has taught on primary and college levels. His rock band, Von Cello, has toured the United States and released multiple CDs. Also known as Von Cello, Minsky has given interviews and performances on radio and television, including appearances on the BBC, RNZ (Radio New Zealand), WOR, Good Day New York and FOX and Friends. His articles and interviews have been published in Strings Magazine, Relix Magazine, Allegro Magazine (Local 802 - American Federation of Musicians), Stringendo (Australian String Teachers Association), JESTA Magazine (Junior European String Teachers Association) and many others. Minsky has performed with orchestras in North and South America and is the cellist with the most single engagements in New York City, performing for presidents, leaders of industry, celebrities and rock stars. Minsky received a Lifetime Achievement Award from Who's Who in America and has performed with a wide range of artists from David Bowie to Mstislav Rostropovitch. Already an accomplished rock guitarist in his teens, Minsky's search for a new guitar sound led him to the cello. Wanting as broad and solid a foundation as possible, he studied with several top classical cello teachers, including Harvey Shapiro (Juilliard), Channing Robbins (Juilliard), Jonathan Miller (Boston Symphony), Einar Holm (Ithaca College), George Saslow (Principal, Fort Wayne Philharmonic) and David Wells of the Manhattan School of Music, where Minsky obtained a Master of Music.