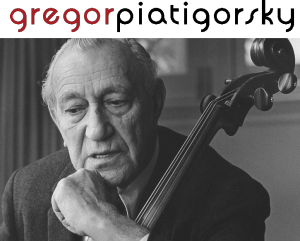 by ZUBIN MEHTA (Music Director of Montreal, Los Angeles, Israel, and New York Philharmonic Orchestras)

It was with the greatest awe that I looked forward to my first meeting with Gregor Piatigorsky. At dinner after one of his celebrated chamber-music concerts in 1961 with Jascha Heifetz, I asked him just one question regarding his recollections of Richard Strauss' conducting of Don Quixote. His reply took over the rest of the evening. As a matter of fact, it continued for the next 15 years through endless hours of conversations and quite a few of concerts.
I cannot forget the first of these performances. It was born out of a talk while we were swimming off Puerto Rico in 1967. We both had been invited by Pablo Casals to perform at his festival. Piatigorsky's Don Quixote was one of such beauty that during the great F-sharp-major variation I turned for a glimpse of Casals, who always sat in the wings. He was weeping. I think at one point or another all of us were weeping.
For my part, I had joined a colleague with whom I breathed musically with such complete oneness that after a performance of a work that took just over 30 minutes, we found ourselves closer than six previous years of discussing that same work had brought us. Communication between two musicians on a spiritual level is a phenomenon that cannot be defined accurately—it is more the unspoken word—the meaning that lies between the notes that draws us closer to one another.

by PAUL KATZ (Cleveland Quartet, New England Conservatory of Music)
[Excerpted from an Internet Cello Society interview of Paul Katz with Tim Janof]
It was my senior year at USC when my teacher, Gabor Rejto went on sabbatical, and as luck would have it, it was the same year that Piatigorsky, Primrose, and Heifetz joined the USC faculty. I auditioned for Piatigorky and became one of the students in his very first class at USC.  I loved that year with him, but I had never yet been away from home (Los Angeles) and I had always dreamt of going to New York. So after one year I left for the Big Apple to study with Greenhouse, got a Masters Degree, and then returned to Piatigorsky for a second time.
I don't recall his class being particularly competitive. We were all good cellists, and Piatigorsky, consciously or not, seemed to appreciate each of us for our own uniqueness. The atmosphere was supportive and Piatigorsky was a father figure to us all.
Having said this, I must admit that those years were extraordinarily stressful for me because I found it difficult to please Piatigorsky. All lessons were in a master class format which meant that all criticism, even that which most teachers would save for private moments, was done publicly. Those classes could be very trying and some of us suffered more than others. The classes were held every Monday and Thursday from ten in the morning to three in the afternoon, which could be a long five hours.
He wanted to help everybody find their own personality and to be strong communicators. I thought of myself as being musically communicative at the time, but I was still shy as a person and he was such an immense extrovert that he could intimidate me. It wasn't easy, but in the end he was very helpful in getting me to throw off my inhibitions and to absolutely go for the jugular when I performed.
Piatigorsky was a larger-than-life personality and he had an enormous sense of humor, and the way I remember it was that he got many of his laughs at the expense of the student in the chair. He was tough, and he liked being the center of attention. It was all in good fun and most of the stories and the jokes that he told had a pedagogical purpose, but making fun of the person in the hot seat was part of the arrangement. Actually, I doubt that everyone in the class would characterize it in this same way—probably at 19, I was just a little too fragile. Some of us seemed traumatized, but others, particularly Steve [Kates] and Larry [Lesser], at least on the outside, appeared unbothered. I think we all enjoyed it when somebody else was up there.
He would try to stimulate our imagination in every way possible and was more interested in hearing a statement of conviction than whether what was being done was interpretively good or bad. It could feel quite liberating.
Imagination also meant writing our own cadenzas and even improvising in class. Being on the shy side, I found it extremely difficult to improvise in front of anyone, not to mention Piatigorsky and all my exceptionally talented colleagues.
He gave us lots of exercises, like 3+1 bowings, where we might play a rapid three-octave scale at the frog, three notes slurred, one note separate, and then repeat it, three notes slurred, one note separate, but over the course of the scale, gradually and evenly move the bow out to the tip. Then we'd do the same thing while staying at the tip, and repeat 3+1 one more time while moving back to the frog. We would then repeat the whole three octaves x3 again with the same patterns, but starting up-bow. He was brilliant when it came to playing and teaching bow distribution and painting colors with bow speed.
He also focused on expanding our dynamic range. He talked about playing softer and softer and softer, or louder and louder and louder, which he said was the equivalent of "a painter with more colors on his palette."
Piatigorsky was interested in everything that had to do with performance, including things that we might laugh at now. When I first joined Piatigorsky's class I was excited that I was going to be studying with the 'Great Grisha,' so for the big occasion, I went out like a good Californian and bought a new orange short-sleeved shirt. The shirt was made from a then new material called Ban-Lon, which was like a nylon golf shirt. When I entered the room for our very first class, he immediately threw me out, telling me to come back in a suit and tie. He didn't act angry or offended, he just ridiculed me for not knowing how to present myself. This was the first of many times when being the butt of his humor wasn't fun. I was humiliated, actually.
I returned three days later to the next class meeting and he threw me out again, this time because the suit I wore per his instructions, was not properly tailored! The sleeves were a bit long for high fashion and hung slightly over my hands. He gave me a lesson in how the shirt cuffs needed to be 2″ longer than the jacket sleeves, so that the cuff (and the all-important cuff links) were visible when in playing position. Then he told me to go have my suit properly tailored. That is actually the very first thing Piatigorsky taught me! But this was an important pedagogical lesson as far as he was concerned, because how we walk and how we bow, how we sit at the instrument, how we dress, and how we carry ourselves on stage was an important part of what he taught us. And while some of this seems outdated and extreme, I think that the visual side of performing does count, and what he taught me in principle helped me in my performing career.