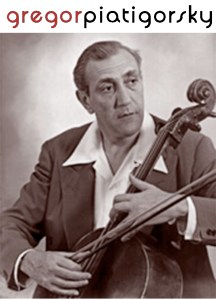 by TERRY KING
(Longy School of Music, Hartt School of Music)
The life of Gregor Piatigorsky is well known—his rise from the impoverished Moscow of the World War I years to solo cellist of the Bolshoi Theatre at 15; His dangerous escape to Poland, where he quickly became solo cellist of the Warsaw Philharmonic and in turn, the Berlin Philharmonic by his 21st birthday.
Piatigorsky's formal training was of limited value as he was basically self-taught. His teachers included Alfred von Glehn (student of Davidov, the father of the Russian School), Brandukov (Cossmann and Fitzenhagen), and briefly with Hugo Becker (Piatti and Grutzmacher) and Julius Klengel — both in Brahms' circle.
From 1929 on he was exclusively a soloist and was enormously successful. He performed with all the great orchestras and conductors of the era and many composers wrote enduring works for him including Stravinsky, Hindemith, Prokofiev, Milhaud, Martinu and Walton.
Piatigorsky first taught in Berlin in the 1920s and then at the Curtis Institute in the 1940s. In the 1960s he joined Jascha Heifetz and William Primrose at USC where his master classes became famous.Gregor Piatigorsky's teaching legacy is palpable today, as it has been for generations. Piatigorsky trained the principal cellists of leading orchestras in Boston, New York, Chicago, Dallas, Houston, San Francisco, Cleveland, Pittsburgh, Minneapolis, Philadelphia, Washington DC, Berlin, London, Vancouver, Toronto and many more. Among soloists and chamber notables are Nathaniel Rosen, Leslie Parnas, Steven Isserlis, Raphael Wallfisch, Jeffrey Solow, Paul Tobias, Mischa Maisky, Denis Brott, Erling Blöndal Bengsston, Stephen Kates, William De Rosa, Gert von Bülow, Paul Katz and Laurence Lesser who owe much to their study with Piatigorsky. His students also occupy important teaching positions in leading conservatories and universities, perpetuating his example for future generations.

by ROBERT BATTEY [excerpt]
(active Washington DC area cellist, teacher and writer)
Piatigorsky moved to America in 1939, becoming a US citizen three years later.
He lived first on some property he had bought in the Adirondacks (and helped found the Meadowmount School with Ivan Galamian), then moved to Philadelphia (where he succeeded Feuermann as cello professor at Curtis), and finally settled in Los Angeles in 1950, where he taught with Heifetz and Primrose at USC. He was a dedicated teacher, and the quality of his studio was legendary. His pupils included Lorne Munroe, Mischa Maisky, Nathaniel Rosen, Stephen Kates, Paul Katz, Lawrence Lesser, Dennis Brott, Rafael Wallfisch, Leslie Parnas, and countless others.
There are too many highlights in his career to mention them all. His annual tours took him throughout the world, appearing with the greatest orchestras and conductors of the time. He made the first recording of the Shostakovich Sonata, collaborated with Stravinsky on his Suite Italienne, premiered the Hindemith Concerto of 1940 and Sonata of 1948, and commissioned or premiered many other works including the Walton Concerto in 1957. He was also a prolific arranger, and many of his transcriptions are published and performed the world over.