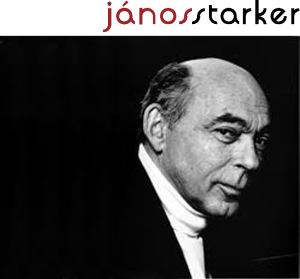 by EMILIO COLÓN (Jacobs School of Music):
The teaching genius of Janos Starker launched at the early age of eight when he gave lessons to his first student, the then six-year-old Eva Czako. Since then, Starker's teaching has influenced generations of cellists for well over eight decades.  Throughout his unprecedented performance career, which began in 1938 at the age of fourteen as a solo cellist playing the Dvorak Concerto and then as of principal cellist of the Budapest Opera and Philharmonic Orchestras, Janos Starker always shared his time between being an artist and teacher.  He stated: "I can not perform without teaching and can not teach without performing." Since leaving his native Hungary, Mr. Starker held positions as principal cellist of the Dallas Symphony 1948-49, the Metropolitan Opera Orchestra 1949-53, and the Chicago Symphony Orchestra, 1953-58.
In 1958, Mr. Starker came to Indiana University for one year as an Artist-in-Residence to see how things would work out with teaching at the University. A year later he was appointed a full professor, and in 1962 he was named a Distinguished Professor of Music. Starker andJoseph Gingold were the first musicians ever to receive the honor at the School of Music. Starker holds this rank   to date as he continues his cello class at the Indiana University Jacobs School of Music.
Janos Starker was born on July 5, 1924 in Budapest, Hungary. Starker's first cello teacher was Fritz Teller. After a few months, his parents decided to take him to Teller's teacher Adolph Schiffer; Schiffer had been David Popper's student and succeeded him at the Franz Liszt Academy of Music where Starker studied. In 1931 Starker's mother took him to his first concert in which Pablo Casals played. Shiffer introduced the young Starker to Maestro Casals and mentioned his talent. Casals kissed him on the check and his fate was sealed. In 1933 while attending the preparatory division of the Liszt Academy, Starker attended a recital with Bela Bartok on the piano and Emmanuel Feuermann on the cello. To him, this was a revelation as he felt this was how the cello should sound! Starker's other teaching influences at the academy at this early age were Imre Waldbauer, who taught him how to play string quartets and Leo Weiner, who taught him piano and chamber music.
Janos Starker performed concert tours on all continents in recitals and as soloist with orchestras. He received every accolade known to the world of music on the stage and as a recorded artist from the 1948 Grand prix du disque (France), for his recording of the Kodály Sonata for solo cello, Op. 8 (Pacific label) to the 1997 "Grammy" award for the Best Instrumentalist Soloist Performance (without orchestra) for his Bach: Suites for Solo Cello Nos. 1-6 (BMG/RCA Victor Red Seal) with hundreds of awards in between. He recorded Over 120 LPs, CDs and DVD's on Angel, Phillips, Mercury, Decca, Deutsche Grammophon, Victor Japan, Japan Columbia, Star Records, Louisville Series, RCA, and Erato amongst others.
The success of Janos Starker's artistry in teaching is a matter of record and evident in the fact that students of his have won posts in every major orchestra in the world.  Institutions have honored him with honorary degrees since 1961: Chicago Conservatory, Chicago, Illinois; 1978: Cornell College, Mt. Vernon, Iowa; 1982: East West University, Chicago, Illinois; 1983: Williams College, Williamstown, Massachusetts; 1990: Lawrence University, Appleton, Wisconsin; 2006: New England Conservatory, Boston, Massachusetts; 2008: McGill University, Montreal, Quebec, Canada. Other important teaching honors amongst many others include the 1986 Tracy Sonneborn Award for Distinguished Performance and Distinguished Teaching, Indiana University; and the 1988 American String Teacher of the Year, awarded by The American String Teacher magazine. His constant desire to improve the playability of the cello led to his Invention of the Starker Bridge: In 1966, Time Magazine called it "a major innovation in 300 years of instrument making." Research showed that the bridge helps activating over-tones.
Starker's students make up a list of who's who in the world of music including international concert artists, prominent professors and principal cellists around the world.  His passion for spreading the information to aid musicians led to the publication of countless articles and books on the art of cello playing. His book: An Organized Method of String Playing, 1965 came to life as a way to help a fellow cellist and dear friend, George Bekefi.  Bekefi asked for help as his nerves were shattered and he could no longer play. Starker wrote exercises for him to build up his strength and confidence.