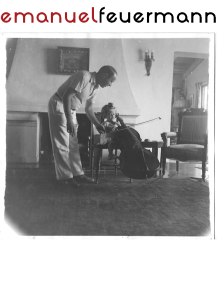 By BRINTON SMITH (Professor of Cello at Shepherd School of Music at Rice University; Principal Cello, Houston Symphony Orchestra)
Emanuel Feuermann was born on November 22, 1902 in the town of Kolomea, in what is now the Ukraine, but at the time was part of the Austro-Hungarian empire. Born into a musical family, his father, Maier Feuermann performed and taught locally on both the violin and cello. Emanuel, or 'Munio' as he was called, was the third of five Feuermann children. His older brother, Sigmund achieved much notoriety as a violin prodigy, overshadowing Munio in the early part of his life. In order to further Sigmund's progress and career, the family moved to Vienna in 1908, where Sigmund eventually studied with Sevcik, and Maier played in the Tonkünstler Orchestra. Munio's earliest cello studies were sporadic, with his father as teacher. He did not begin to study regularly until he was seven years old. He later began studying privately with Anton Walter and made quick progress. He performed his first recital in late 1913 in Leopoldstadt, made his first orchestra appearance shortly afterwards with the Tonkünstler Orchestra, playing the Haydn D Major Concerto. Although sources are unclear, there are some accounts that he made his official debut with the Vienna Philharmonic in February 1914, with Felix Weingartner conducting, again playing the Haydn concerto. The Philharmonic concert was reputed to have been a critical success and the young Feuermann toured with Sigmund during the next three years, performing the Brahms Double Concerto.
In 1917, at the age of 15, Munio was sent to Leipzig to study with Julius Klengel, where he remained for the next two years. When Friedrich Grützmacher died suddenly, leaving the cello professorship at the Gürzenich Conservatory in Cologne vacant, Klengel was asked to suggest a possible successor, and he nominated the young Feuermann, who began his professorship there in the fall of 1919, still only sixteen years old. In addition to his teaching duties, he served as cellist for the Gürzenich quartet and first cellist of the Gürzenich orchestra. During the following years, Feuermann began to perform throughout Europe with increasing frequency, and made his first commercial recordings (the second and third movements of the Haydn D Major Concerto) in December, 1921. In 1923, Feuermann resigned his post in Cologne in order to devote his full attention to his active concert career. During this period he collaborated with Bruno Walter and George Szell, as pianists, and Artur Schnabel and Carl Flesch, among others. In the Fall of 1929, Feuermann was appointed to the cello professorship at the Berlin Hochschule für Musik, the premier teaching position in Germany, and he maintained this post while continuing an active concert and recording career. He also formed a string trio with Paul Hindemith and Joseph Wolfsthal, who was replaced after his tragic death by Szymon Goldberg. Hitler's rise to power led to Feuermann being relieved of his post at the Hochschule in 1933.
Fleeing Nazi persecution, Feuermann stayed briefly in Paris and then in London. He moved to Zürich in 1937 and finally to America, where he arrived in October of 1938. During these years, Feuermann continued to record and perform and made several world tours, increasing his reputation. He made his American debut with the New York Philharmonic on January 2nd, 1935 and followed this with a Town Hall recital twelve days later, achieving a great critical success. His collaborations by now included almost all of the major orchestras, and he finally achieved much sought after success in England with his performance of Strauss' Don Quixote with the BBC Symphony and Toscanini, who had insisted on Feuermann as soloist, in May of 1938.
Feuermann continued to perform after moving to America, but most of Europe was soon unavailable for concertizing because of the war. He collaborated in chamber music performances and recordings with Heifetz, Primrose and Rubinstein. Feuermann lived in New York, settling eventually in Rye, and taught both privately and at the Curtis Institute. On May 25th, 1942, at the age of thirty nine, he died following routine surgery, probably from complications resulting from an allergic reaction to morphine.
Many feel that towards the end of his life, Feuermann's playing had reached a level higher than even he had previously attained. We can only wonder what might have followed, had his life not been cut so tragically short. Feuermann left behind a legacy of over 70 recorded works that provide compelling evidence that his level of musical and technical mastery is unequaled, before or since.
–Excerpted from Brinton Smith's dissertation "The Physical and Interpretive Technique of Emanuel Feuermann"