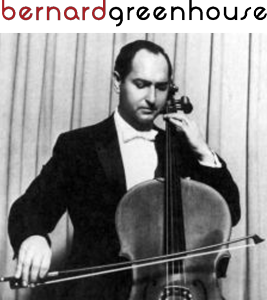 TRIBUTE TO BERNARD GREENHOUSE ON THE OCCASION OF GREENHOUSE'S 90TH BIRTHDAY CELEBRATION
by PAUL KATZ
(Cleveland Quartet, New England Conservatory of Music)
Some of us that studied with Bernie are now at an age where, let's face it, some important memories have begun to fade – I know what I am talking about. Therefore, it is all the more incredible how vividly I remember the magic of Bernard Greenhouse's sound the first time I heard him (with The Bach Aria Group), in Pasadena, California, in 1961. The elegance, imagination, and perfection of his playing that night was an inspiration that has always stayed with me. Three months later I nearly had to kill to get tickets for The Beaux Arts Trio, but, like an addict still high from the first experience, I just had to hear that sound again. The Beaux Arts played the Dvorak "Dumky" and the Beethoven "Archduke" Trios that night (which is why I proposed them to Brooks Whitehouse when he asked me what I would like to play for our current celebration). The Beaux Arts and their cellist enthralled me. While listening to Bernie play, I made the decision that I must study with him, and the following September I arrived in New York to begin lessons with him.
For two inspiring years Bernie worked with me: "First, I am going to fix your left hand- hang your arm on the playing finger, roll the weight from the old to the new finger, soften the hand, prepare your shifts, align your fingers from the top to the bottom of the cello…" My facility and accuracy made giant strides. At the same time, he opened a whole new world of color for me: "Vary your bow speed and contact point, paint with your bow; modulate your vibrato to fit the dynamic and the character; experiment with fingerings, they are an important expressive tool! Don't sing here- speak – don't speak here -sing." On and on, and the frustration I had always suffered from, of feeling something inside of myself but not being able to bring it out of the cello, began to lessen.
Bernie's warmth, devotion and interest in all of his students was remarkable-he was both stern taskmaster and friend. In the summer of 1963, after a punishing season of touring, he finally got a few free weeks at his home in Wellfleet. Of course, always the involved teacher, he invited this California boy for two weeks of daily lessons, yachting and clam digging on Cape Cod. (I have become even more amazed by this generosity as the years have passed, for I also adore teaching and am close to my students, but I have never ever had the energy or devotion to take them with me on holiday!)
Years went by, the Cleveland Quartet and teaching at the Eastman School became the center of my musical life, and the warmth and humanity expressed in Bernie's sound and his words of cello advice always stayed with me. What a thrill when we began to play concerts together! Of the numerous Schubert Quintet performances we did together, one of the most memorable was at the New York Metropolitan Museum of Art at a time that the Cleveland Quartet was playing on The Paganini Strads, a quartet of instruments that had been matched, owned and played on by Paganini himself. Bernie's own glorious Stradivari cello has, of course the same nickname of "Paganini," and he explained to us that his cello had been the original instrument in the quartet. For some reason, the maestro sold Bernie's instrument and replaced it with the one I was using (in my opinion, a mistake, unless, perhaps, Paganini's idea of quartet playing was to dominate!) We all had goose bumps that night when all 5 instruments were reunited on stage, and of course, I got the additional thrill of playing with my teacher.
On a more poignant note, I will never forget a recording session of the Brahms Sextets with the Cleveland Quartet, Pinchas Zukerman and Bernard Greenhouse in the late 1970's (here's an example of my failing memory-I'm not at all sure of the year.) At the end of a grueling day, Bernie and I left the RCA studios and started up 6th Avenue together. Bernie was barely moving and it quickly became apparent that he was unable to walk and carry his cello. He told me it was nothing at all, "a little angina," but his labored gasps for air told me otherwise. I carried both instruments, helped him into a taxi, and fought back tears, for I was concerned that he might have little time left.
What could be more amazing and splendid then, to be here with him almost 30 years later, in the year 2005, celebrating Bernard Greenhouse's 90th birthday!!! Congratulations Bernie!! Bravo for a lifetime of inspired music making and teaching; the adoration and gratitude of generations of those of us behind you has been so well earned and so richly deserved!
The sound of the cello can work miracles: the sound of the cello can make people cry or fall in love, and the sound of Bernard Greenhouse has changed my life!

by ROBERT BATTEY
(active Washington DC area cellist, teacher and writer)
As a young cellist, I of course had heard Greenhouse's name many times, and seen it on record jackets in other people's collections.  I kept reading that he was a "cellist's cellist," whatever that meant, but I also knew he wasn't a big-time touring soloist like Starker or Rostropovich.
But it was some time before I first saw and heard him; the occasion was the Schubert Quintet with the Juilliard, at the Library of Congress, around 1971.  Portly and unassuming, he took his place with the group without ceremony, as though he'd done it with them hundreds of times (which I later learned was not far off).  But when the performance began, I thought he was kidding.  The Juilliard back then featured high-energy, edge-of-seat playing, with much to-ing and fro-ing.  Its cellist, Claus Adam, was the least demonstrative, but he still "got into it" when the spirit moved him.  Amidst all this, Greenhouse almost seemed to be making fun of them.  I had never seen top-level string playing that was so relaxed (and haven't to this day).  He was visually almost lethargic, and yet from the Cello II part he controlled the sound of the entire group at will.  And at particularly vibrant or dance-like spots in the third and fourth movements, his affect was actually jolly, something almost shocking in a professional performance.  His vibrato was particularly intriguing to me, since it looked almost exactly like what my teachers had demonstrated as the wrong way to vibrate (using mainly the wrist).
But for all this, it was only when I was privileged to study with him that I realized in just how many ways he was unique as a cellist and as an artist.  His physical make-up – including 3d and 4th fingers whose surface area was equal to that of my thumb – allowed him to produce that unforgettable sound with very little effort.  And with his natural ease on the instrument, technique had never been much of a concern for him; he was able to focus on and think about the music itself from his earliest studies.  It is little wonder that Feuermann and Casals took to him with such alacrity; they both saw in him a vessel that was ideally formed to receive their most elevated ideas, and indeed to develop them further.
His career could have gone in a number of different directions; in his early years, his virtuoso chops were world-class.  He was one of the first modern cellists to perform the ridiculously difficult Vieuxtemps concerto, he created the cutting-edge technique necessary to play the Carter Sonata (written for him), the Bach Suite of choice in most of his early recitals was the brutal Fourth, and his obscure recordings of the Dvorak, "Haydn" D major, and Victor Herbert concertos display sound and facility that are still the envy of cellists everywhere.  But for whatever reasons, he chose a lower-profile career, as a stellar chamber musician and teacher.
His playing, though, has always stood up to that of the greatest cello icons.  Put Casals's, Feuermann's, Piatigorsky's, Rostropovich's, Rose's, Starker's, Fournier's, Harrell's, or Ma's recordings of the big solos from the trio literature up against Greenhouse's, and none of them outplay him; in some cases the comparison is embarrassingly to their detriment.
I remember Greenhouse telling me once that he had grown weary of people always saying what a beautiful tone he had; he sought something higher than "beauty," and that was musical truth.  This focus in some ways limited him as a teacher.  Although his ideas on technique were of course detailed and complex, he was only really interested in what the student was trying to say (if anything).  Technical issues were something that simply "got in the way" of the musical message, and at times he could seem more irritated than supportive of our deficiencies.  This was, sadly, particularly true for students who were built the least like him, and for whom his highly personal playing style was physically unsuited.  But with every student, he took the most detailed psychological profile, and tailored his delivery in a way he felt they needed; some gruffly, some gently, some humorously, and others with an edge.
Above all, for him it was about the musical message, and how that message had to be alive, intelligible, and expressive in every bar.  Uninflected playing was as painful to him as bad intonation.  Everything was about character, shape, and creating atmospheres and emotional states.  He cajoled, exhorted, demonstrated, barked, and wheedled.  When one of us managed to produce a phrase that pleased him, it was as if we had won the Tchaikovsky Competition.
He had his faults as a person, but he was unquestionably one of the great musical artists of our time.  With him, the cliché was absolutely true; he could create more music in a single bar than most of us could in an entire page.  The Beaux Arts Trio, his signature achievement, dominated the field for decades, and its recordings, especially of the Brahms C minor Piano Quartet, the Beethoven Triple, and the Dvorak "Dumky," Tchaikovsky, Ravel, and Schubert Trios are all-time classics, that repay repeated study.
His interest, generosity, and loyalty towards his students was legendary; he helped us any way he could for as long as needed, and his pride in our accomplishments was almost as great as our parents'.  Those of us who were fortunate enough to count ourselves in this select group are keenly aware of the legacy we are carrying forward, and few things motivate me as much as trying to be worthy of what this giant of the cello taught me.