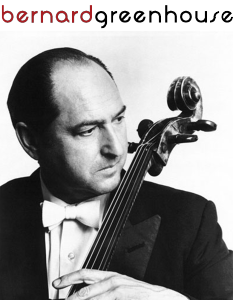 From the true affection that Mr. Greenhouse gave to each one of his students to the profound mastery of his instrument, Mr. Greenhouse was the epitome of the grand style of teaching. I remember the thoughtful manner in which Mr. Greenhouse strove to have his students understand the difficulties of our instrument, technically and musically – above all, the music – in the Socratic style of asking us to understand and to find our own answers.
– JUDITH GLYDE (Professor of Cello, University of Colorado)
The artistry of Bernard Greenhouse's teaching has influenced generations of cellists for well over fifty years. Throughout his remarkable performance career as the founding cellist of both the Beaux Arts Trio and The Bach Aria Group, Bernard Greenhouse was equally devoted to his students. For nearly 70 years, Greenhouse taught at the Manhattan School of Music, Juilliard, New England Conservatory, the State University of New York at Stony Brook, and Rutgers University.
Bernard Greenhouse was born on January 3, 1916 in Newark, New Jersey. Greenhouse made his decision about whether to purse a career as a doctor or as a cellist when Juilliard awarded him a scholarship. Greenhouse studied at Juilliard with Felix Salmond, and following his graduation, continued lessons with Emanuel Feuerman and Diran Alexanian. His final teacher was Pablo Casals with whom he studied from 1946-1948.
Many of Greenhouse's students recall the stories he shared with them regarding these great cellists of the past. Rolf Gjelsten describes how Greenhouse was committed to passing on the most important messages of the musical tradition he inherited from immortal musicians like Pablo Casals and Emmanuel Feuermann. He believes that "great artistry should not be lost. It should be assimilated."
Paul Katz decided to leave California for study with Bernard Greenhouse after being mesmerized by Greenhouse performances with the Bach Aria Group and Beaux Arts Trio. The sound of Greenhouse's playing first captivated Katz's imagination, and Greenhouse's teaching drew Katz into a new world of sound, color, and phrasing on the cello.
Perhaps most important of all was Greenhouse's artistic impact on me. The warmth of his sound and the way he colored notes has influenced me over a lifetime. Today, forty years later, I like to think of myself as a colorist; I am preoccupied by what I can paint inside a single sound. For a sound to stay alive, something interesting should happen within it.
Timothy Eddy, another Greenhouse student, describes his experiences of working with Greenhouse:
The most important lessons I learned from him were, first of all, to use the sounds of the cello to "speak" with the audience, passionately and candidly, searching always for beauty and clarity of expression.  Secondly, he made me aware that every sound I make is saying something, whether on purpose or by accident, and that I must listen constantly and intensely to be sure I am expressing what I really mean!
Elizabeth Aureden, chair of the Music Department at Phillips Academy writes:
Greenhouse's sound drew his students to him. In the words of Eric Edberg, Professor of Music at Depauw University, Greenhouse's sound is one that  "enriches and reveals the music, not a sound that draws attention to itself." Out of this glorious sound, Greenhouse's students drew a vital lesson about their roles as performers and teachers. Eric Edberg describes how "from everything Greenhouse did and said, it was clear that his approach was always about serving the music and bringing it to life. Technique was never an end in itself."
Bernard Greenhouse: January 3, 1916-May 13, 2011
Read more Cellobello tributes for Bernard Greenhouse at:
https://cellobello.org/blog/bernard-greenhouse/bernard-greenhouse-january-3-1916-may-13-2011/