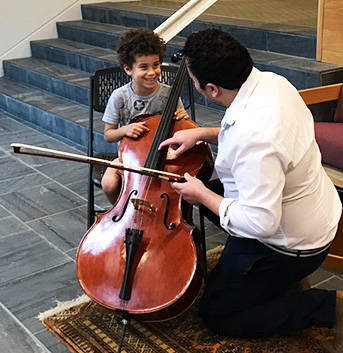 CelloBello celebrates the completion of its inaugural CelloKids Teacher Training Seminar (August 1-15, 2020)!
Drawing on the vast experiences of a diverse teaching team, this two week-long seminar covered a broad assortment of topics ranging from how to approach a student's very first lesson to how to incorporate improvisation into a student's learning. Our course participants included not only seasoned teachers, but also recent school graduates, researchers, and parents seeking new ways to inspire their children to practice. It was designed to give teachers and parents tools to foster a holistic approach to cello playing.
Beyond the 10 classes taught by our renowned faculty, the seminar included bonus sessions featuring special guests Jeffrey Zeigler and Paul Katz. Participants had the additional opportunity to take part in interactive sessions, and dive deeper in discussion over the course content. Sample class topics included: Games that Teach, Anatomy of a Young Cellist, Growing a Cellist, Setting Up Students with a Healthy Foundation, and How to Develop Improvisation and Creativity.
We are so grateful to all of the participants of our inaugural CelloKids Teacher Training Seminar — thank you for making it a success!
August 2020 Seminar Participants
Carina Albuquerque
Rejean Anderson
Nikita Annenkov
Jennifer Bailey
Emily Balderrama
Monan Bittencourt
Summer Boggess
Tapalin Charoensook
Jiamo Chen
Lillian Chen
Stephanie Chen
Dale Culliford
Garth Cummings
Gaby Figueroa
Mary Fisher
Jeanne Fox
Jonathan Gerhardt
Hilary Glen
Elizabeth Glennon
Maho Grazzini
Evgeny Grechko
Alice Greminger
Christine Halverson
Portia Hansen
Robert Hausmann
Anna Helgadottir
Mary Alice Hendricks
Anna Herrera
Wesley Hornpetrie
Cyrena Huang
YoonJung Hwang
Meghan Johnson
Evan Kahn
Ellen Kilcup
Joan Kinsella
Joanna Klett
Julia Knowles
Rosalind Leavell
Heewon Lee
Shiang Lee
Julia Marshall
Elsa Mateu
Andreea Nicu
Saara Nordblom
Sofia Nowik
Kristin Palombit
Beth Pearce
Karen Poleshuck
Bianca d'Avila do Prado
Alicia Randisi-Hooker
Anthony Rodriguez
Eva María Rodríguez
Beatriz Rojas
Alice Sewell
Jasmin Shih
Martha Siegel
Kristin Smith
Kati Thieme
Megan Titensor
Lisa Todd
Cameron Williams
Yuting Wu
Liz Youker
August 2020 Seminar Faculty