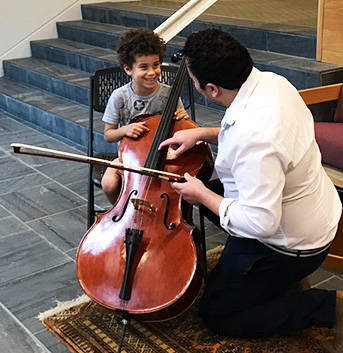 CelloBello is thrilled to announce the inaugural CelloKids Teacher Training Seminar!
Drawing on the vast experience and diverse styles of our teaching team, this robust course will cover a broad assortment of topics ranging from how to approach a student's very first lesson to preparing young cellists for pre-college programs. Whether you are a seasoned teacher, a recent graduate looking to start a studio, or a parent seeking new ways to inspire your child to practice, this seminar is designed to give you tools to foster a holistic approach to cello playing.
In addition to 10 classes taught by our top teachers, the seminar will include three bonus sessions (exclusive to those registered in the full course) where our faculty will be joined by CelloBello founder and internationally acclaimed cellist Paul Katz to discuss their teaching methods and engage in conversation with our participants. Throughout the program, participants will have the additional opportunity to take part in interactive sessions, and dive deeper into conversations with one another about the joys and challenges of teaching. We look forward to welcoming you into the CelloBello community!
This seminar will run from Saturday August 1 to Saturday August 15, 2020. While all live sessions are scheduled for 1 pm ET, each class will be video recorded so that participants with scheduling conflicts can still have access to the course content for their enrolled classes. This video archive will be available to them through the end of August 2020.
While individual class enrollment is available, we encourage participants to take advantage of the full course bundle discount (that's 14 sessions for $350!). For those heavily impacted by the pandemic, CelloBello is offering an additional Covid-19 discount for both the course and individual class enrollment. Please email thomas@cellobello.org if you are in need of this discount code—no explanation needed!
An overview of our classes:
Week 1 Topics:
Setting up Students with a Healthy Foundation
Growing a Cellist (Part 1)
How to Develop Improvisation and Creativity
Anatomy of the Young Cello Player
Games that Teach
Week 2 Topics:
Establishing and Nurturing a Strong Foundation
Growing a Cellist (Part 2)
How to Use Improvisation in Technical Practice
Teaching Cello-Based Music Theory
Incentives for Practice at Home and in the Classroom
Meet our Seminar Faculty!
SIGN UP FOR THE FULL COURSE PACKAGE
SIGN UP FOR INDIVIDUAL CLASSES