Emanuel Feuermann: Popper Papillon
Emanuel Feuermann – cello
Emanuel Feuermann (1902-1942) was almost universally recognized during his brief lifetime as a peerless master of the instrument. Artur Rubinstein said "Feuermann became for me the greatest cellist of all time", Jascha Heifetz accepted him as the first cellist worthy of serious collaboration, and would not play with another for nine years after his death. He was the cellist of choice for conductors including Toscanini, who described him as "the greatest" and said that "there is no one after him" and Szell, who said that he played with "…noblesse and distinction, and with the complete equipment in the service of an artistic purpose." His premature death during routine surgery in 1942 at the age of 39 brought his career to an end before he had a chance to establish the type of widespread fame that Heifetz and Casals secured, but even today -more than half a century after his death- there is a clear consensus, among cellists who were privileged to hear Emanuel Feuermann play and among those familiar with his recordings, that Feuermann was a cellist without equal. His graceful, elegant playing shows both a warm, Kreislerian musicality and a fluid and facile command of the instrument that most cellists agree has never been approached since.
–Excerpted from Brinton Smith's dissertation "The Physical and Interpretive Technique of Emanuel Feuermann"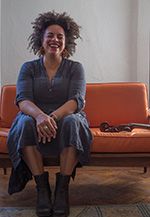 Emanuel Feuermann's grand-daughter Marika Hughes is a cellist, singer, composer, song-writer and teacher. A native of NYC, Marika was exposed to a varied creative life from an early age. Shortly after completing her studies, Marika left NYC and moved to San Francisco, CA. where she began to explore a musical life outside of the western classical tradition of her childhood training. In addition to playing in the Berkeley and Santa Rosa Symphonies, she joined Quartet San Francisco and  performed and recorded for a host of artists and films. In 2006, Marika moved back to NYC where she enjoys playing with many local musicians she has long admired as well as some superstars: D'Angelo, Whitney Houston, Mary J. Blige, Sean Lennon, Valerie June, David Byrne, Lou Reed, Ani DiFranco, Imani Uzuri, Charlie Burnham, Anthony Braxton, Toshi Reagon, Adele, Aruan Ortiz, Nasheet Waits and Henry Threadgill. Marika has appeared on The David Letterman Show, The Jimmy Fallon Late Night Show as well as Saturday Night Live.
CelloBello wishes to thank Marika Hughes for sharing her personal family remembrances celebrating her immortal grandfather. The daughter of Feuermann's only child Monika, these candid, honest stories were passed down through her mother, her grandmother Eva, and her aunt Sophie, bringing uniquely personal and valuable insight to our cello community.
By BRINTON A. SMITH (Professor of Cello at Shepherd School of Music at Rice University; Principal Cello, Houston Symphony Orchestra)
Emanuel Feuermann was born on November 22, 1902 in the town of Kolomea, in what is now the Ukraine, but at the time was part of the Austro-Hungarian empire. Born into a musical family, his father, Maier Feuermann performed and taught locally on both the violin and cello. Emanuel, or 'Munio' as he was called, was the third of five Feuermann children. His older brother, Sigmund achieved much notoriety as a violin prodigy, overshadowing Munio in the early part of his life. In order to further Sigmund's progress and career, the family moved to Vienna in 1908, where Sigmund eventually studied with Sevcik, and Maier played in the Tonkünstler Orchestra. Munio's earliest cello studies were sporadic, with his father as teacher. He did not begin to study regularly until he was seven years old. He later began studying privately with Anton Walter and made quick progress. He performed his first recital in late 1913 in Leopoldstadt, made his first orchestra appearance shortly afterwards with the Tonkünstler Orchestra, playing the Haydn D Major Concerto. Although sources are unclear, there are some accounts that he made his official debut with the Vienna Philharmonic in February 1914, with Felix Weingartner conducting, again playing the Haydn concerto. The Philharmonic concert was reputed to have been a critical success and the young Feuermann toured with Sigmund during the next three years, performing the Brahms Double Concerto.
In 1917, at the age of 15, Munio was sent to Leipzig to study with Julius Klengel, where he remained for the next two years. When Friedrich Grützmacher died suddenly, leaving the cello professorship at the Gürzenich Conservatory in Cologne vacant, Klengel was asked to suggest a possible successor, and he nominated the young Feuermann, who began his professorship there in the fall of 1919, still only sixteen years old. In addition to his teaching duties, he served as cellist for the Gürzenich quartet and first cellist of the Gürzenich orchestra. During the following years, Feuermann began to perform throughout Europe with increasing frequency, and made his first commercial recordings (the second and third movements of the Haydn D Major Concerto) in December, 1921. In 1923, Feuermann resigned his post in Cologne in order to devote his full attention to his active concert career. During this period he collaborated with Bruno Walter and George Szell, as pianists, and Artur Schnabel and Carl Flesch, among others. In the Fall of 1929, Feuermann was appointed to the cello professorship at the Berlin Hochschule für Musik, the premier teaching position in Germany, and he maintained this post while continuing an active concert and recording career. He also formed a string trio with Paul Hindemith and Joseph Wolfsthal, who was replaced after his tragic death by Szymon Goldberg. Hitler's rise to power led to Feuermann being relieved of his post at the Hochschule in 1933.
Fleeing Nazi persecution, Feuermann stayed briefly in Paris and then in London. He moved to Zürich in 1937 and finally to America, where he arrived in October of 1938. During these years, Feuermann continued to record and perform and made several world tours, increasing his reputation.
Read more >>
By BRINTON A. SMITH (Professor of Cello at Shepherd School of Music at Rice University; Principal Cello, Houston Symphony Orchestra)
From a comparative analysis of Feuermann's Dvorak Concerto:
Feuermann definitely chose tempos much faster than his colleagues, both for faster and for slower sections (though often Casals' tempos on the slow sections were similar.) Feuermann produced a clear beginning for each note, with the vibrato beginning exactly with the start of the note and not slightly afterwards as with the other cellists. The precise coordination of the left and right hands also contributed this extraordinarily clear sounding of each note. Feuermann's vibrato was faster than that of the other cellists, of an average width and more consistent in application. Feuermann used glissandi frequently to produce a sense of connection between notes, but they were generally fast and lightly emphasized. Whatever the degree of emphasis of these glissandi, it was secondary to (though it also, in fact, helped to create) the emphasis of the arrival and departure note. Often only the highest part of the glissando was heard.
Feuermann made many small accelerandi and ritardandi during the course of a phrase, but these effects were never extreme and the overall rhythmic flow was rarely disturbed. Feuermann played with a clear and strong emphasis on those notes which he wished emphasis, and very little on those he did not. He relaxed the tension in between emphasized notes, creating a clearer sense of rising and falling line. Feuermann interpreted similarly to the other cellists, but avoided technical carelessness and interpretive extremes which could distract from his musical line. One of his colleagues summarized it thus "With the other cellists, I hear every note-every swell and gesture. With Feuermann, I am only conscious of the line."
Read more >>
Excerpted from "The Lost Genius of the Cello" by Annette Morreau, published in The Independent, 3 Oct 2002:
"A talent like Feuermann's comes around once in a hundred years"
—Jascha Heifetz
"He became for me the greatest cellist of all times, because I did hear Casals at his best. He had everything in the world, but he never reached the musicianship of Feuermann. And this is a declaration."
—Artur Rubinstein
"He was the most comfortable player up at the top that I have ever heard before or since."
—George Sopkin
"He is an ideal that one strives towards in that kind of honesty, integrity and virtuosity."
—Yo-Yo Ma
"I place him as the most important figure for 20th-century cello playing because he was the one who proceeded to carry cello playing as such to a higher level. If he had lived longer he would literally have taken the place of Casals."
—János Starker
Read more >>
CelloBello Webmaster
2018-06-19T00:49:59+00:00