next on cello

chat:


anssi karttunen

Sunday, September 22nd 2019, 1:00 pm EDT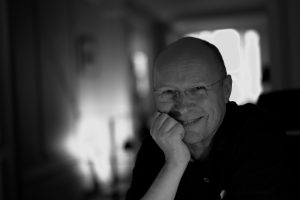 The Finnish cellist ANSSI KARTTUNEN leads a busy career as a soloist and chamber-music player, performing extensively with many of the best orchestras and musicians.
Anssi Karttunen performs all the standard cello works, has discovered many forgotten masterpieces and transcribed numerous pieces for cello, or chamber ensembles. He is a passionate advocate of contemporary music and his collaboration with composers has led him to give over 180 world premieres of works by composers as diverse as Magnus Lindberg, Kaija Saariaho, Rolf Wallin, Luca Francesconi and Tan Dun.
Karttunen has premiered 30 works for cello and orchestra, among them: Magnus Lindberg's 2 Cello Concertos, Esa-Pekka Salonen's Concerto "Mania", Tan Dun's Cello Concerto "Yi1", Luca Francesconi's Cello Concerto "Rest" or Jukka Tiensuu's "Oire". Kaija Saariaho's Concerto "Notes on Light" was a Boston Symphony Orchestra commission for Anssi Karttunen. In October 2018 he gave the premiere of Betsy Jolas's "Side Roads" with the Swedish Chamber Orchestra..
Karttunen plays in the Zebra Trio with the Austrian violinist Ernst Kovacic and Canadian viola player Steven Dann. He appears in recitals with Magnus Lindberg and Nicolas Hodges, with the violinist Jennifer Koh and with the multi-instrumentalist John Paul Jones.
He plays with many of the best orchestras of the world and in recitals and chamber music at major festivals in Europe: Edinburgh, Salzburg, Lockenhaus, Spoleto, Berlin, Venice, Montpellier, Strasbourg, Helsinki etc..
The CD´s of Anssi Karttunen range from Bach on a Violoncello Piccolo, Beethoven on a classical cello and 20th-Century works for solo cello to concertos with London Sinfonietta, Los Angeles Philharmonic and the Philharmonia Orchestra with Esa-Pekka Salonen. Sony Classical issued CDs of the Concertos of Lindberg, Saariaho and Salonen. Deutsche Grammophon issued a DVD of Tan Dun's The Map for cello, video and Orchestra and a CD of Henri Dutilleux's Cello Concerto (Grammophon Award 2013). Recent CDs include also Brahms's Chamber Music and a solo recital on Toccata Classics, Saariaho Trios and Lindberg Cello music on Ondine, Tangos on Albany Records and Colin Matthews's Cello Concerto 2 for NMC.
Between 1994 and 1998 he was the artistic director of the Avanti!-Chamber Orchestra. He was the artistic director of the 1995 Helsinki Biennale and the Suvisoitto-festival in Porvoo, Finland from 1994 to 1997. From 1999 to 2005 Anssi Karttunen was the principal cellist of the London Sinfonietta. He was the artistic director of the Musica nova Helsinki festival in 2015.
Anssi Karttunen also performs as a conductor. He has conducted Lindberg's Kraft with the Flanders Philharmonic, the Los Angeles Philharmonic cello ensemble, the Gaida Ensemble in Vilnius, NJO String Orchestra etc.
He is a founding member of Petals, a non-profit organisation for the production and sale of CDs and scores on the Internet. His transcriptions include Brahms's Piano Quintet for String Quintet and Händel-Variations op. 24 for String Trio, Schumann's Cello Concerto for Cello and String Orchestra and Album for the Young for String Trio many of them available through www.petals.org.
His teachers included Erkki Rautio, William Pleeth, Jacqueline du Pré and Tibor de Machula. He teaches at the Ecole Normale de Musique in Paris.
Karttunen plays a cello by Francesco Ruggeri, Cremona circa 1670.
upcoming cello

chat

events
September 22nd 2019 at 1:00 pm EDT
ANSSI KARTTUNEN
École Normale de Musique
Live from Paris
September 29th 2019 at 8:00 pm EDT
NATASHA BROFSKY
The Juilliard School
Live from New York, NY
October 6th 2019 at 8:00 pm EDT
PAUL KATZ
New England Conservatory
Live from Boston, MA
October 13th 2019 at 8:00 pm EDT
LLUÍS CLARET: Celebrating Pablo Casals
New England Conservatory
Live from Boston, MA

October 20th 2019 at 8:00 pm EDT
ASTRID SCHWEEN
Juilliard String Quartet, The Juilliard School
Live from New York, NY

October 27th 2019 at 1:00 pm EDT
INBAL SEGEV
International Soloist
Live from New York, NY

November 3rd 2019 at 1:00 pm EST
BION TSANG
University of Texas at Austin
Live from Austin, TX
November 10th 2019 at 1:00 pm EST
MATTHEW ZALKIND
Lamont School of Music at the University of Denver
Live from Denver, CO
November 17th 2019 at 1:00 pm EST
ALBAN GERHARDT
International Soloist
Live from Minneapolis
November 24th 2019 at 8:00 pm EST
DAVID YING
Eastman School of Music
Live from Rochester, NY
December 8th 2019 at 1:00 pm EST
BRANT TAYLOR
Chicago Symphony Orchestra, DePaul University School of Music
Live from Chicago, IL
December 15th 2019 at 1:00 pm EST
JEFFREY ZEIGLER
Mannes School of Music – The New School
Live from New York, NY
December 22nd 2019 at 1:00 pm EST
SANTIAGO CAÑÓN VALENCIA
International Soloist

All Chats take place Sunday at 8 PM EDT/EST unless otherwise noted
All Chats are broadcast via Facebook Live on the CelloBello Facebook page:

previous cello

chat

events