Originally posted on Violinist.com.
As a student, I was fortunate enough to experience the magic of performing music on stage with my great mentors Bernard Greenhouse, Boris Pergamenschikow, and Laurence Lesser, as well as see how each of them balanced their performing and teaching careers. The difference between listening to them explain how to create a phrase and actually forming that phrase with them on stage was huge and significant.
Performing with my teachers was a vastly more effective lesson than a one-on-one in a studio, teaching me "on-the-spot" artistic decision-making, amending each performance to fit the energy of the hall. Ever since those transformative and magical moments, I knew that I would become a teacher and pass on the tradition of sharing music with my own students on stage. As János Starker once said, "I personally can't perform without teaching and I can't teach without performing."
For me, there wasn't much of a gap between being a student and becoming a teacher. I was hired as a professor at the Peabody Institute at Johns Hopkins University at 28, one of the youngest professors employed at a major conservatory, and some of my students were older than me. I created the Peabody Cello Gang because I want my students to not only excel technically, but to become successful career performers who understand how to emotionally prepare for a performance and experience the feedback of an audience.
The Gang is composed of students from my studio, ranging in age from undergraduate freshmen to second year Master's students, who come together frequently to perform works written or arranged for cello ensemble. I also bring the Cello Gang on tour with me around the country, performing as soloist in standard cello concerti with the Gang as orchestral accompaniment, as well as cello choir repertoire and more. Classical Voice North Carolina described a recent Cello Gang tour performance as "collaborative playing at its absolute best."
By performing with the Cello Gang, my students can feel when I get nervous and see how I deal with concert life in real time, feeling the spontaneity I infuse into every performance. I also assign each student on stage talking points, improving their audience communication, and have them assist in masterclasses to hone their own teaching skills.
When my students joined me in the recording studio for The Amit Peled Peabody Cello Gang on CTM Classics, I wanted them to feel the excitement, rigor, and unpleasant aspects of the recording studio, followed by the immense pride and collegiality when you get the desired result (and a drink!). All of these skills build upon the strictness and knowledge learned in the classroom, leading to more meaningful and faster improvement.
I am also excited to be able to create new works for cello ensemble, most recently a collaboration with Tom Zebovitz on a world premiere arrangement of Schubert's Arpeggione Sonata in A Minor, D. 821, which is featured on the album. I've always thought the piece would sound amazing for four cellos, so I asked Zebovitz for help. On the top of my future project wish list is to arrange and record all six Bach Cello Suites with the Cello Gang—I dream of these masterpieces in a cello quartet set-up, emphasizing Bach's unique polyphonic approach.
This approach to pedagogy has created a marvelously close-knit and circular community of musicians. I teach them in-studio, accompany them on stage, and then oversee them teach—the whole package! Throughout my performing career, I've rarely seen the public react more enthusiastically than they do towards the Cello Gang, thanks to their enthusiasm and talent, as well as the wide variety of their backgrounds and ethnicities. Laurence Lesser is now teaching a former student of mine and was very proud to hear her performances on The Amit Peled Peabody Cello Gang album. He has "cello grandchildren!"
Purchase The Amit Peled Peabody Cello Gang album on Amazon.
---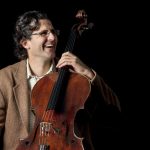 From the United States to Europe to the Middle East and Asia, Israeli cellist Amit Peled, a musician of profound artistry and charismatic stage presence, is acclaimed as one of the most exciting instrumentalists on the concert stage today. At 6'5″ tall, Peled started life as a basketball player and was called "larger than life" when he enveloped his cello and "Jacqueline du Pré in a farmer's body." Peled often surprises audiences with the ways he breaks down barriers between performers and the public, making classical music more accessible to wider audiences. Tim Smith of the Baltimore Sun reflected on a recent performance: "Peled did a lot of joking in remarks to the audience. His amiable and inviting personality is exactly the type everyone says we'll need more of if classical music is to survive."
During the 2017/18 season, Mr. Peled will continue to share with audiences around the globe the sound of the historic cello of Pablo Casals. Mrs. Marta Casals Istomin, the widow of Maestro Casals, personally handed him this historic instrument, a Goffriler ca. 1733. Some of the upcoming highlights include Bach Suite cycles in the USA, Europe and Israel, a new Naxos installment with the Tempest Trio, a debut collaboration with Maestra Marin Alsop, performing the Shostakovich Concerto, Penderecki's Second Cello Concerto conducted by the legendary composer himself, a release of the Brahms Cello Sonatas, Schubert's Arpeggione Sonata recorded on the Casals cello, and a musical celebration of Beethoven's cello/piano sonatas around the world to commemorate his 250th anniversary.
Mr. Peled has performed as a soloist with many orchestras and in the world's major concert halls such as: Carnegie Hall and Alice Tully Hall, New York; Salle Gaveau, Paris; Wigmore Hall, London; Konzerthaus, Berlin; and Tel Aviv's Mann Auditorium. Following his enthusiastically received Alice Tully Hall concerto debut playing the Hindemith cello concerto, the New York Times stated: "Glowing tone, a seductive timbre and an emotionally pointed approach to phrasing that made you want to hear him again." Mr. Peled's extensive discography includes critically acclaimed CDs on the Naxos, Centaur, and Delos Labels.  His recent release of "Casals Homage" which features the legendary 1915 Pablo Casals program was a best – selling feature on the online iTunes Store! In 2017, he recorded the unknown music of Nadia Boulanger, which has awarded him a Grammy nomination!
As an active chamber musician, Peled is a founding member of the famed Tempest Trio with pianist, Alon Goldstein and violinist, Ilya Kaler. Their Dvorak CD on Naxos has been described as "The best 'Dumky' on disk ever!" The Tempest Trio returns to the recording studio this fall to record another CD for Naxos. Mr. Peled is also a frequent guest artist, performing and giving master classes at prestigious summer music festivals such as the Marlboro Music Festival, Newport Music Festival, Seattle Chamber Music Festival, Heifetz International Music Institute, Schleswig Holstein and Euro Arts Festivals in Germany, Gotland Festival in Sweden, Prussia Cove Festival in England, The Violoncello Forum in Spain, and Keshet Eilon Festival in Israel, among others.
Amit Peled has been featured on television and radio stations throughout the world, including NPR's "Performance Today," WGBH Boston, WQXR New York, WFMT Chicago, Deutschland Radio Berlin, Radio France, Swedish National Radio & TV, and Israeli National Radio & TV.
One of the most sought-after cello pedagogues, Mr. Peled is a Professor at the Peabody Conservatory of Music of the Johns Hopkins University. A promising basketball player, at 6'5, Mr. Peled had to make a tough choice between the basketball arenas and the concert halls. As difficult as it was to leave the professional basketball behind, he enjoys following fanatically the NBA league and playing hoops with his children.