June 8, 2018 marked the Naxos release of a live recording of the first professional performance of Italian composer Mario Castelnuovo-Tedesco's 'lost' cello concerto in over 80 years. Castelnuovo-Tedesco's career in his native Italy was cut short by Mussolini's rise, and he spent the latter half of his life in Hollywood, where he scored nearly 200 films, while continuing to compose classical works and teaching students including Henry Mancini, Nelson Riddle, André Previn, Jerry Goldsmith, and John Williams (André Previn tells the story of Mario forcing him to orchestrate Mozart's 40th symphony from memory, and then comparing his orchestration to the economy of Mozart's).
Mario relates that Piatigorsky asked "Castelnuovo, a great many cellists play your works as well as I do, but nobody loves them as much. Write a concerto for me!" and in 1933 Mario obliged. In the spring of 1933 Piatigorsky and Toscanini were companions on the SS Rex en route to Italy and spent their evenings together, regaling each other until sunup when Piatigorsky was finally forced to yield to the Maestro's superior stamina and excuse himself for bed. In one of these late night conversations:
Piatigorsky mentioned a new concerto by Castelnuovo-Tedesco. Toscanini immediately demanded the score, retired with it for the night, and returned with it at seven the next morning. He stormed through the door of Piatigorsky's cabin waving the manuscript in his face. "The double-stops in the second movement must go and in one place the winds are too thickly orchestrated. But it is good- good!" he muttered excitedly, pouring out a stream of minute analysis and comment, the cellist recalled the scene with awe. "Only a few hours before he had set his eyes on the music for the first time and there he was, with the entire score at his fingertips. While I. who had worked on it the entire trip knew little more than my part."
Toscanini programmed the premiere with Piatigorsky and the New York Philharmonic in Carnegie Hall on January 31st, 1935 (just weeks after Feuermann's New York debut!) Piatigorsky recalled his first piano rehearsal with Toscanini:
Maestro at the piano, we began the concerto. Glancing at his score, I noticed that the cello part was virtually covered with penciled fingerings and bowings. No cellist except me had seen the concerto. Surprised, I asked who had made the markings, "I did," said Maestro, "Why?" "Did you forget I was a cellist?" he said, smiling, "One does hear fingerings and bowings, and I wanted to know if yours would be the same as mine" Maestro banged on the piano in a true Kapellmeister manner. He spoke and he sang and his spontaneity and vigor carried me away. By the end of our long and exhilarating session, I had miraculously regained my strength.
Piatigorsky also recalled sharing the Carnegie Hall Green room with Toscanini:
The conductor quickly paced the room, cursing and mumbling to himself. It was impossible for Piatigorsky to warm up and concentrate, and he stopped practicing. Toscanini looked at him and cursed "You are no good!…I am no good!" and continued to pace. Piatigorsky begged "Please Maestro, I will be a complete wreck." But when Toscanini came to the wings to collect Piatigorsky for the concerto, he said to the Maestro "We are no good…but the others are worse! Come on, caro, let's go!"
Reviews of the premiere were mixed, with some praising the concerto's tunefulness while others dismissed its traditional melodic values and tonal language. Piatigorsky performed the concerto a few more times in Europe, and critics continued to split between praising it and condemning it as 'old fashioned' in a time of ascendant modernism (Korngold's music was similarly dismissed, as was Rachmaninoff's. History has offered a different judgment). Piatigorsky was active in commissioning for his instrument but unlike Heifetz, he rarely devoted great energies to promoting any of these commissions once they had been premiered, and quickly moved on to new projects. Castelnuovo-Tedesco insisted that Piatigorsky alone have the performing rights, and, with the work never having been recorded and the music available only by rental, it quickly lapsed into obscurity.
I first read about the concerto as a boy in Piatigorsky's autobiography Cellist, and was already searching for it as a student at Juilliard. Finally, in the Fall of 2015, I connected with the proper rental agency and received a trial score. The only way to discover what it sounded like was to learn it and play it with the piano reduction! It was a new experience for me to learn an 85 year old score with no recording to reference, no metronome marks, and no ability to ask the composer—only musical intuition and general descriptive markings to go by. Our primary goal was always to bring the piece back before an audience, rather than to record it, but the generosity and interest of Klaus Heymann at Naxos allowed us to do both, However we did not have the safety of the typical post-concert 'live recording' patch session, which added another level of stress, given that the 30 minute concerto with its extended double cadenzas, is the most virtuosically demanding one I have ever performed. We were particularly pleased to be joined at the last performance by all four of Castelnuovo-Tedesco's grandchildren and their families. With Castelnuovo's cello and piano music well covered in the recording catalogs, we opted to fill the remainder of the disc with his transcriptions, many recorded for the first time ever, of Mozart, Ravel and Rossini, which Mario made in his very free and personal manner for Piatigorsky and Heifetz (the latter 'de-ranged' by me for the cello) .
Although the concerto had remained unperformed and unrecorded for over 80 years, the recent revival of interest in his music and the 50 year anniversary of his death this year have brought forth two other recorded versions of the concerto in the last 6 months, by Raphael Wallfisch and Silvia Chiesa—so perhaps the work will finally find a foothold in the repertoire. As we re-evaluate the merit of works by once disdained composers like Korngold, Castelnuovo's reputation as a classical composer is also on the rise. It is certainly true that something doesn't have to sound beautiful to be great art, but simply because it sounds beautiful doesn't necessarily mean it isn't art, either. If we fail to advocate for repertoire simply because it doesn't equal the profundidty of a Beethoven Symphony or the Brahms violin concerto, we risk hobbling our art with an ever-shrinking spiral of repertoire that we perform for the public. Living with this Castelnuovo-Tedesco work has given me a deeper appreciation for the quality and beauty of his compositions and I hope you will find the same.
Learn more about the concerto and recording via The Naxos Blog. The CD is also available for purchase on Amazon and iTunes.
All italicized quotes are from Cellist by Gregor Piatigorsky and Gregor Piatigorsky: The Life and Career of the Virtuoso Cellist by Terry King.
---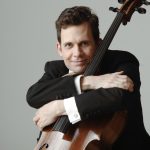 Hailed by Newsday for "extraordinary musicianship…forceful, sophisticated and entirely in the spirit of the music," cellist Brinton Smith continues to win rave reviews for virtuosic performances with musical ideals rooted in the golden age of string playing. His debut recording of Miklós Rózsa's Cello Concerto with the New Zealand Symphony Orchestra won widespread international critical acclaim, with Gramophone praising Smith as a "hugely eloquent, impassioned soloist," and his recording of chamber music of Fauré with Gil Shaham was chosen by numerous critics as one of the year's best albums. As a chamber musician, he has collaborated with Yo-Yo Ma, Gil Shaham, Cho-Liang Lin, Lynn Harrell, Sarah Chang, Dawn Upshaw and members of the Beaux Arts Trio and the Guarneri, Emerson, Juilliard, Cleveland, and Berg quartets. Mr. Smith is the principal cellist of the Houston Symphony and a faculty member of the Shepherd School of Music at Rice University. He was previously a member of the New York Philharmonic and the principal cellist of the San Diego and Fort Worth symphonies. His performances have been broadcast throughout the world including, in the US, on CBS Sunday Morning and NPR's Performance Today and Symphonycast. At age 10, Mr. Smith was admitted part-time to Arizona State University, studying mathematics, music and German, and he completed a B.A. in mathematics at age 17. He received his masters and doctoral degrees from Juilliard, studying with renown cellist Zara Nelsova and writing on the playing of Emanuel Feuermann.