The six solo suites of J.S. Bach (composed 1717–1723) are so central to the life of every cellist, young and old, amateur and professional, that we don't really need an anniversary year to celebrate them. Yet, while historians are unable to tell us in precisely which years they were written, many feel it's possible that Bach began composing them exactly 300 years ago, in the year 1717.
The wildest science fiction of Bach's day could never have predicted the Internet, that the music of this modest composer in the little German town of Cöthen would be revered and celebrated worldwide with livestreamed concerts, CelloChats, master classes and blogs.
But that is exactly what we are doing on CelloBello!  Nothing could be more central to a website devoted to the cello, than the celebration and substantive discussion of these enduring masterpieces.
---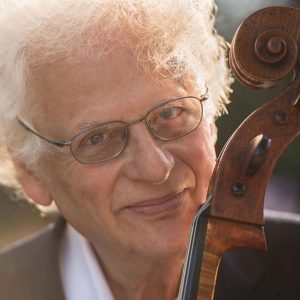 LAURENCE LESSER STREAMED MASTER CLASS ON BACH
Thursday, January 26, 2017 at 4 pm
on Facebook Live
Lesser has devoted much of his artistic life to the study, teaching, performing and recording of Bach. He approaches performance with reverence, intelligence, life-long inquiry, and an innate musical talent. You don't want to miss his streamed master class and CelloChat sessions this week.
A few of his thoughts on Bach:
"When anyone approaches the Bach Cello Suites, it's natural to begin thinking about a "correct" way to play them. My teacher, Gregor Piatigorsky, used to say: "Never play for the cellists in the audience – they always have a different idea."  Start that instead with "Never play Bach for . . ." and life gets even harder! Like every young cellist of my generation, I was very influenced by the recordings of Pablo Casals.  How could I not be?  He was considered the "greatest" cellist of his day.  And how could one deny the performances of an artist who always convinced you, at least as long as his sounds were in your ears.  I was lucky enough to play the d minor suite for him in 1961 and his ideas made a big impression on me. But as I became a professional musician, there was a wonderful new and fresh voice speaking through his playing about the Suites – Anner Bylsma.  I am very lucky to have become his friend – and his ideas continue to stimulate me immeasurably.  The Suites haunt me and are astonishingly deep and wonderful messages from a great master."
---
CELLOCHATS AND BLOGS ON BACH 
Each of our Chat Hosts – Laurence Lesser, Colin Carr, Antonio Lysy and Inbal Segev – are also contributing in the week of their chat,  companion articles on Bach – be sure to read them in CelloBlog!
FIVE SPECIAL CHATS CELEBRATING THE CELLO SUITES OF J.S. BACH
Sundays, 8pm ET
January 29
"Bowings in Bach – A Topic That Never Goes Away!"
LAURENCE LESSER
New England Conservatory
February 5
"Decision Making in Bach, What's Important?"
COLIN CARR
Stony Brook University, St. John's College Oxford
February 12
"If It Ain't Baroque, Don't Break It"
INBAL SEGEV
Amerigo Trio
February 19
"The Bach Suites as You Have Never SEEN Them Before"
ANTONIO LYSY
University of California, Los Angeles