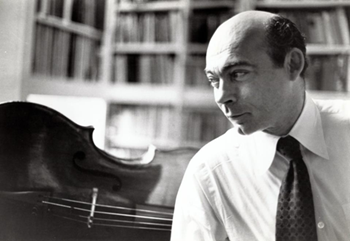 A Message from Gabriella Starker
It is overwhelming as well as comforting to read and hear the outpouring of respect, memories and emotion since my father left us. I am still emotionally unable to look at all of it. I know I will eventually.
My father was my inspiration, my mentor, my strongest and most demanding critic and my great friend. I know that most of you would say exactly the same. His devotion and passion for those he taught and inspired was all encompassing. Nothing gave him greater joy or pleasure.
Personally I am reeling from the loss of my daddy, even the detail that he was the last family I could speak with in Hungarian when it came to the basics and not the intellectual pursuits.
Life without his physical presence will be a huge challenge to get used to, not that I am going to try. I appreciate being able to share these thoughts.
An Invitation From Remenyi.com
In honor of the life of Janos Starker and the impact he left in our lives, we invite former students, friends, families, colleagues and all who loved him to join in this intimate gathering to share our thoughts, memories and music. Bring favourite pictures and stories.
Toronto Cricket Club
141 Wilson Avenue
Toronto, ON M5M 3A3
(corner of Avenue Road & Wilson Avenue)

Special hotel rates for July 27-28 are available through the Howard Johnson Yorkville. Book by phone (416.964.1220) before July 6 & mention the 'Starker Memorial Group Rate' for preferred pricing.
Contact Diana at admin@remenyi.com or 416.961.3111 x211 for more details.