Applying and auditioning for schools can be really scary at times, but it doesn't have to be. I've been working on my repertoire for auditions for well over a couple of months now and throughout that time, I've learned a few things when it comes to preparing for college. Now, just to clarify, I'm no expert on this stuff; I just thought that maybe if someone if my position had any questions needing answering, it might be nice to hear from another person in the same situation, especially since I've already recorded most of my prescreenings and have that experience under my belt. Even if it's a tiny tip that helps, I hope that this could help out people my age with the same aspirations!
Prescreenings
The nice thing about prescreenings is the flexibility the format gives you. I chose to record five of my pieces all in one weekend, and that worked for me, but if that seems a little stressful, a lot of people like to record, say, one piece every few weeks because it leaves time to really focus on that specific piece for a certain block of time. Basically, just know what you're capable of and don't be afraid to try out either way. I was definitely unsure of how I would be prepared for an intense weekend of recording, but the extreme focus really helped me to record the best takes that I had.
One of the most useful tools I had used to prepare was recording myself. Often when I was unsure of what to practice, I'd make a recording and listen back as if I were the judge in an audition. If you aren't used to recording yourself, you might be shocked to hear what you sound like, but don't use it as a cruel method of self-deprecation, make it constructive; look at it from a professor's perspective and try to think what you would like to fix. After a while of recording yourself, you'll feel more comfortable with your playing so when it comes to the actual recording, you can feel more relaxed.
When preparing, and during your final recording, it's so important not to get hung up on tiny mistakes, because the judges aren't looking for a perfect performance, rather, they want to see who you are as a player and whether or not they want to teach you. When I was making my recordings, I got very hung up on small blips in my playing and that negative attitude didn't work in my favor. If you make a mistake during your recording, don't stop or shake your head. Pretend it didn't happen, and continue, as if it never happened.  Don't take this the other way though, it's very important to drill runs and shifts during practice, however, try to focus on other things when you get to the final stage of recording.
One of the final things you might want to decide is whether you want to record yourself or book a studio to do so. Both are very viable, and there are pros and cons to each. I was able to professionally record mine in a concert hall, and that was nice since I didn't need to worry about setting up a camera, getting the audio ready, and doing post work on the recordings; all I had to focus on was my playing, and that helped me perform better. However, there's nothing wrong with doing it yourself, as long as you're performing in a fairly resonant space (not too much so), you have a camera to record with, and reasonable audio.
Overall, the whole process has been some work, but it's totally worth it. I hope this helped some people out applying to college right now who weren't too sure about some things and needed some tips specifically about the prescreening process.
---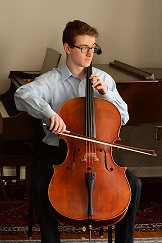 A native of Buffalo, NY, Drew Cone is a Senior at Williamsville East High School. He began studying cello at age 8 with Eva Herer, and currently is a student of David Ying, cellist with the Ying Quartet and Associate Professor cello and chamber music at the Eastman School of Music.
Drew has performed solos with the Buffalo Philharmonic under the baton of JoAnn Falletta, as well as the Ars Nova Chamber Musicians on their annual Viva Vivaldi Festival. He received first place in the junior division of the 2011 MTNA Empire State Competition and won the Interlochen Concerto Competition in 2014. He has attended Green Mountain Chamber Music Festival, Bravo Workshop, the Castleman Quartet Program, Interlochen, and Bowdoin International Music Festival. This school year, he will be performing with the Amherst Symphony Orchestra and will be featured on From the Top.
In his spare time, Drew enjoys hiking with his family, playing the occasional video game and hanging out with his younger brother Matt (who plays viola) in their chamber group at Eastman Community Music School.