A true cello icon from my generation of string quartets is stepping down—after a remarkable 42 seasons in the Juilliard Quartet,  Joel Krosnick leaves at the end of next year (and continues as Chair of Juilliard's Cello Dept.) Mega-Congratulations Joel, and welcome to a wonderful cello colleague and friend of mine, Astrid Schween, who will join the Juilliard Quartet in September of 2016! —Paul Katz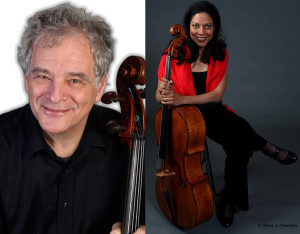 CELLIST JOEL KROSNICK TO CELEBRATE HIS 42nd AND FINAL SEASONWITH THE JUILLIARD STRING QUARTET.
 Krosnick Will Continue to Teach and Remain Chair of Juilliard's Cello Department. Cellist Astrid Schween to Join the JSQ September 2016
NEW YORK—Juilliard President Joseph W. Polisi announced today that the 2015-16 season will mark cellist Joel Krosnick's final season with the Juilliard String Quartet, the quartet's 70th season. Mr. Krosnick has been a member of the Juilliard String Quartet since 1974 and is chair of Juilliard's cello department. He will be entering his 42nd and final season with the quartet—whose other members are violinists Joseph Lin and Ronald Copes, and violist Roger Tapping—performing with them throughout the 2015-16 season and ending with concerts in Asia and the United States in June 2016.
Cellist Astrid Schween, an alumna of The Juilliard School, will join the Juilliard String Quartet beginning in September 2016. She will also become a member of Juilliard's cello faculty beginning with the fall 2016 semester. Ms. Schween is an internationally recognized soloist and chamber artist, and is currently professor of cello at the University of Massachusetts at Amherst.
Ms. Schween will perform Schubert's C Major Quintet, D. 956 with the Juilliard String Quartet on its February 22, 2016 recital in Alice Tully Hall as they celebrate cellist Joel Krosnick's last appearance at Alice Tully Hall as the JSQ cellist.
Reflecting on the start of his last season with the quartet, Joel Krosnick said:
"I will always be grateful for the extraordinary 42 years I will have spent with the Juilliard String Quartet by the end of the 2015-16 concert season. In the fabled 'gradual evolution' of the Juilliard String Quartet, at the end of my last season I will have had memorable colleagueships with Earl Carlyss (12 years), Joel Smirnoff (23 years), Robert Mann (23 years), Samuel Rhodes (39 years), Ronald Copes (19 years), Joseph Lin (5 years), and Roger Tapping (3 years). I will miss not only the wonderful relationships over the 42 years, but especially the many intense rehearsals and performances, sharing our music with each other as well as with audiences all over the world. There will be many special concluding moments in my relationships with my colleagues, including a performance on February 22, 2016, in Alice Tully Hall, of the Schubert Cello Quintet, which will include the wonderful new cellist of the Juilliard String Quartet, Astrid Schween. Another memorable event is our recent extended voyage with the Schubert Quartet, "Death and the Maiden," culminating in the release of an innovative, new app that includes audio and video performances of the monumental work, combined with many extraordinary interactive features. We hope that the app will enable us to share with music lovers everywhere a deeper understanding of the many historical, musical, and emotional aspects that highlight our relationship with this great music. I am of course looking forward to continuing my extensive teaching of the cello and chamber music at Juilliard, and remaining as chair of the cello department of The Juilliard School."
Mssrs. Lin, Copes, and Tapping welcomed their new colleague by saying: "We are thrilled that Astrid Schween has agreed to join us as we say a fond farewell to our beloved Joel. We felt an immediate musical kinship with Astrid when we played together, and we are very much looking forward to this new chapter in the life of the Juilliard String Quartet."
Astrid Schween has performed extensively throughout the United States, Canada, Europe, Australia, New Zealand, and Japan. A frequent guest artist with the Boston and Memphis Chamber Music Societies, she is a member of the celebrated Boston Trio, an ensemble-in-residence at the New England Conservatory.
On being selected as the next cellist of the Juilliard String Quartet, Ms. Schween remarked: "As a young cellist growing up in New York City, I attended dozens of JSQ performances. I loved the ensemble for its daring, gritty, and always passionate renderings of the standard and contemporary repertoire. In fact, much of the established contemporary string quartet repertoire was commissioned by the JSQ. I was always impressed by the delicate balance achieved by the quartet as the members' individual personalities could be enjoyed while the ensemble shone beautifully as a polished entity. Since those early days, I have been a huge fan of Joel Krosnick, admiring not only his instrumental virtuosity, but his dedication as a teacher and mentor to generations of young cellists and ensembles. It is a great honor to join the JSQ – and I will do my best to follow the excellent model established by this great artist."
About Joel Krosnick, Cellist
Cellist Joel Krosnick has performed as soloist, recitalist, and chamber musician around the world. As the cellist of the Juilliard String Quartet since 1974, he has performed the great quartet literature throughout North America, Europe, Asia, and Australia. With his sonata partner of more than 40 years, pianist Gilbert Kalish, Mr. Krosnick has performed recitals throughout the U.S. and Europe. The duo has recorded the complete sonatas and variations of Beethoven and the sonatas of Brahms as well as works by Poulenc, Prokofiev, Carter, Hindemith, Debussy, Janáček, Ralph Shapey, and Henry Cowell for the Arabesque label. A recent release, also on Arabesque, is a disc entitled, "Forgotten American," includes music of Hall Overton, Ben Weber, Ernst Bacon, and Otto Luening. Mr. Krosnick's recording of the Sonata for Solo Cello by Artur Schnabel appears on the CP2 label, and his CD of Roger Sessions's Six Pieces for Solo Cello is available on Koch Classics. Mr. Krosnick is also on faculty of the Kneisel Hall Chamber Music Festival. A recipient of the Chevalier du Violoncelle Award from the Eva Janzer Memorial Cello Center at the Jacobs School of Music at Indiana University, Mr. Krosnick completed his Bachelor of Arts degree at Columbia University and holds honorary doctoral degrees from Michigan State University, Jacksonville University, and the San Francisco Conservatory of Music.
About Astrid Schween, Cellist
Cellist Astrid Schweenis an internationally recognized soloist and chamber artist. As a longtime member of the Lark Quartet, she performed in some of the world's most prestigious venues, recorded numerous CDs, and received many honors, including the Naumburg Chamber Music Award and the Gold Medal at Russia's Shostakovich Competition. While still a teenager, she made her debut as soloist with the New York Philharmonic under the direction of Zubin Mehta and went on to receive bachelor's and master's degrees at The Juilliard School, where she was twice awarded the Juilliard cello prize. Her teachers there included Harvey Shapiro, Leonard Rose, Channing Robbins and Ardyth Alton. She also studied with Bernard Greenhouse, Dr. H.T. Ma, Eugene Moye, and in London with Jacqueline Du Pré. She participated in the Marlboro Music Festival and the William Pleeth Cello Master Classes at the Britten-Pears School in Aldeburgh. Ms. Schween serves as cello professor at the University of Massachusetts at Amherst, and is on the faculty of the Hartt School of Music, Mount Holyoke College, and at Interlochen. She has also conducted master classes at Juilliard, the Curtis Institute, the Hartt School, Dartmouth College, and at many other schools, and is an occasional speaker and panelist for organizations such as Chamber Music America. A frequent guest artist with the Boston and Memphis Chamber Music Societies, she is also a member of the Boston Trio, an ensemble-in-residence at the New England Conservatory. She performs regularly in recital with pianists Randall Hodgkinson and Michael Gurt, and has served as juror for the Fischoff, Sphinx, and Concert Artists Guild competitions. This season and next, she is involved in performances of the Elgar Concerto in anniversary tributes to her mentor Jacqueline Du Pré.