Hey CelloBello readers!
My name is Nathan Chan and I've been playing the cello for over 17 years. Throughout this time period, my relationship with the cello has been an ongoing evolution in the way I see music as an incredibly powerful tool of expression and creativity. What started as a hobby in the beginning of my musical learning initially evolved into a battle for technical mastery and now has begun to blossom as a freeing medium for spontaneity and exploration.
As a child born and raised in the 90s, my parents were very supportive of me. My father, a Hong-Kong born cardiologist who emigrated to the states for college, represented the discipline and detail-oriented leader in my early life. My mother, a Chinese-Canadian who is a Juilliard-educated pianist, was my creative and spiritual guide growing up. They would often put on LaserDiscs (the older ancestor to the DVD) featuring conductors such as Herbert von Karajan, Leonard Bernstein and Seiji Ozawa on this TV we had at home. Using a chopstick as a baton, I did my best in emulating these legends who became my musical heroes. A chance event became an alignment of the stars when as an audience member, then assistant conductor of the San Francisco Opera Sara Jobin (now assistant conductor of the Toledo Symphony) noticed something peculiar in the toddler a few rows ahead of her at an orchestral performance. I must have been conducting from my seat! After a brief introduction to my parents, Sara gave me informal conducting lessons which led me to my debut with the San Jose Chamber Orchestra conducting Beethoven's 5th Symphony at age 3. So my musical life started then, through the art of conducting.
It was two years later at the age of 5 when my parents thought a more formal musical education in the form of an instrument would help solidify my musical understanding. I initially was drawn to the double bass because I always loved the low sounds of the orchestra. But of course the double bass is huge and I was (and still am) a very small guy. So we settled on the cello! My first private teacher was the wonderful Irene Sharp, with whom I studied for over 11 years. She held monthly studio classes in her home in Palo Alto, which I am so thankful for because they made me so comfortable performing new repertoire every single month. Mrs. Sharp, (who we all affectionately called Reinie) was instrumental in getting me to where I am today.
The thought that the cello could be my career materialized years later at age 11 when I had an epiphany about its intrinsic value as a communication tool. This realization only occurred after I was fortunate enough to be a part of an HBO TV series called "The Music in Me". I auditioned for the show via video (which I produced myself on iMovie!) and was asked not only to play the cello, but also to speak a bit about myself. I later asked the show's producer Leslie Stifelman why I was chosen among the 500+ applicants, and she said that I had the ability to inspire others through the communication in my playing instead of scaring off or dominating via technical ability.
"The Music in Me" was premiered in Carnegie's Zankel Hall on via a huge projector. All of us from the show also performed too! I distinctly remember watching the show for the first time, where I performed and spoke about Camille Saint-Saens' The Swan and felt absolutely astonished at the way music made me feel and how it could make other feel. Subconsciously, the show also reinforced my attraction to film and video (much like the way video inspired me as a toddler). This would have a great influence on my life when I started to explore music video creation on the internet.
I've never been a technical perfectionist at the cello, and while I am always trying to improve my technical ability, I have tried to focus more on how I can communicate a story or an emotion. I once watched an amazing news bit featuring Yo-Yo Ma when he was only 25 years old. In it he said:
You can say 'I never want to miss a note', and that can be dangerous in the sense that you can be too careful about what you want to do. If you take a risk… and you miss something, you've still communicated something. But if you don't take a risk and you get it right, you may not have communicated anything except perfection, which… I don't think is an end in itself. (https://www.youtube.com/watch?v=emZaPicXie8)
Going to the fantastic high school in San Francisco named "Lick-Wilmerding High School" so changed the way I viewed myself and how I viewed others. The depth and breadth of knowledge my colleagues possessed made a huge impression on me. I suddenly became fascinated with so many things outside of the cello, like film, history, business, table tennis, chess, and even a bit of acting. So, looking towards college it felt natural for me to investigate dual degree programs. My teacher at the time Sieun Lin was instrumental in recognizing my strengths. She had a great ability of honing in on my communication skills as a cellist. But she knew that I needed to up my technical level going forward. So, I eventually settled on the Columbia-Juilliard Exchange, where I would get to experience the magic of New York alongside a cello teacher who I very much look up to named Richard Aaron.
The greatest event of my college life occurred magically during the first week of orientation, when I met my cello colleagues and classmates Justin Zhao, Maddie Tucker, Steven Bennett and Corinna Boylan at a casually organized sight-reading party. What first started out as truly joyful musical readings, eventually turned to, "Hey, this sounds pretty good. Why don't we form a band?" Thus, our 5-person cello ensemble String Theory was born.
String Theory was a great musical experience for me in that I felt we were able to push the musical boundaries of many musical genres and most importantly, make music fun. Because the cello is such a versatile musical instrument we were able to play pop, jazz, classical, rock, movie and even Chinese and Indian music. We first started by playing for many of the student groups across campus. We had such a blast that we recorded and made music videos for our most popular pieces and uploaded them to YouTube. Amazingly, these videos became popular enough to reach other cool communities outside of the Columbia campus. We were invited to perform at places such as Google Zeitgeist, and even a Johnson and Johnson pharmaceutical conference. Being a part of String Theory made me realize the importance of reaching out to all different types of audience in order unite people through music.
While this was all going on, my studies at Juilliard gave me the opportunity to focus solely on improving my technical ability on the cello. Richard Aaron really whipped me into shape over the course of 5 years. For the first time in my life, I learnt how to practice. I used to never know what I was doing whenever I practiced. Richard gave me a plethora of tools and skills to analyze whatever I did and have the self-confidence to get better. In doing this, I challenged myself to always improve my technique. But this also made me lose some of confidence I had, as learning more and more secrets of the cello revealed the errors I never knew I had. Getting the opportunity to study with a different sort of master in my first year of graduate school changed this thinking for me forever.
In 2015, I was fortunate enough to be a participate in the great cellist Gautier Capuçon's "Classe d'Excellence du Violoncelle" at Fondation Louis Vuitton in Paris, France. Studying with Gautier opened my ears to the importance of sound and color. As I traveled back in forth 5 times that school year, I always would put on a huge smile whenever I heard Gautier draw his bow on his Gofriller cello. The hugeness of his sound must be experienced live. His sound affected all 6 of us cellists in his class. We were playing bigger and rounder each visit and I was always inspired by the emotional experience one got when faced with incredible sound.
As I've gotten older, I've started to regain the confidence in my cello playing with regards to technique. And now, I am most interested in how freely I can be a creative artist when I play. This past summer I got to work with Mike Block in the Silk Road Ensemble's "Global Musicians Workshop" as a fellow at Tanglewood. In it, I got a chance to explore the farthest reaches of my musical knowledge through Arabic and Bluegrass music. It was an amazing feeling to try and transfer as much of my knowledge in the classical world over to these new genres. It felt great to improvise and learn about microtones and learn new things by ear. It reminded me of the importance of music on a global level as something spontaneous and creative. This is what ultimately makes me tick.
Currently, I am residing in New York and constantly exploring. I am a passionate believer in the power of YouTube and am continuing to make music videos that push classical music to the next level. I am also periodically performing with the St. Louis Symphony, Pittsburgh Symphony Orchestra and the Philadelphia Orchestra as a cellist in the section. I am very excited to be performing Brahms Double with Simone Porter and Maestro Laura Jackson in January 2017 with the Reno Philharmonic.
Being a cellist is such an interesting career because you are only limited by your creative imagination. I can't wait to see where cello takes me next and hope to continue pushing myself to the next discovery!
---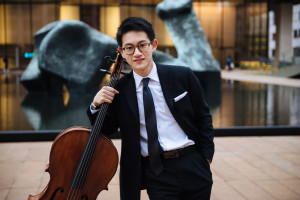 Cellist Nathan Chan made his musical debut at age three conducting the San Jose Chamber Orchestra. He has performed as a soloist with the San Francisco Symphony, the Royal Philharmonic, and the Albany Symphony, among others. In 2016, Chan was a chosen artist for the Foundation Louis Vuitton's Classe d'Excellence du Violoncelle with renowned cellist Gautier Capucon. Nathan earned his Bachelor's degree from Columbia University and has a growing internet presence with over 5.6 million views. Nathan studied with Richard Aaron at The Juilliard School, where he recently earned his Masters of Music.