CelloBello Remembers János Starker
Please join us for a full week of events and video releases,
to remember and honor this great figure of the cello world.
Preview of upcoming events:
New Videos of Never-Before Seen Interviews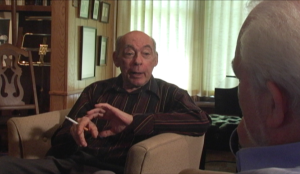 Newly released interview videos of János Starker in conversation with Paul Katz in 2010. 
April 22: Growing as a Performer
April 23: Releasing Tension
April 24: Rhythmic Freedom
April 25: Vibrato
April 26: His Performance Anxiety
April 27: His Difficult, Early Years
Please visit our János Starker CelloLegacy section 
on CelloBello.com each day to view the newest video.
Daily Blogs 
A new blog each day at CelloBlog by former Starker students and family including
Robert Battey, Paul Katz, Maria Kliegel, Alexandra Preucil (Starker's granddaughter),
Brant Taylor and Jeffrey Zeigler.
CelloChats
Your chance to ask questions about Starker's cello teachings and hear personal anecdotes and stories of the master! 3 special CelloChats with former students of Starker
Reminiscing: What I Learned From János Starker
all chats at 8:30 pm EDT at www.cellobello.org/chat
  April 22: Brant Taylor, Chicago Symphony
            April 26: Jeffrey Zeigler, formerly of Kronos Quartet, now at Mannes School of Music
            April 28: Paul Katz, formerly of Cleveland Quartet, now at New England Conservatory 
______________________________________________________________
Remembering
János Starker
1924 – 2013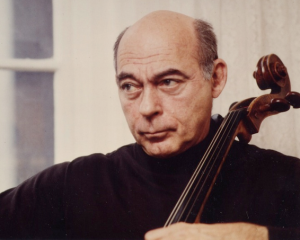 JÁNOS STARKER
by Robert Battey
János Starker all-embracing legacy is unique. No one impacted so many different facets of the art, craft, and literature of the cello, and no one gave so freely of himself to advance the cause of music at all levels.
As a solo artist, he was simply nonpareil. He traveled the globe scores of times, appearing in the world's great concert halls, and with the most prestigious orchestras. His recording career spanned nearly half a century, and covered an astounding range of repertoire—from multiple versions of the Bach Suites, to severe, late 20th century words of Bernard Heiden and Robert Starer, to probing, provocative interpretations of all the central masterpieces of the cello literature, to the jazz works of David Baker.
Whether on stage or through recordings, the technical and musical standards he upheld never once wavered or compromised. And those standards were higher than anyone else's. From his world premiere recording of the Kodaly Solo Sonata at age 24 (which won the French Grand Prix du Disque) to his muscular, virtuoso renditions of the Hindemith and Schumann Cello Concertos at age 70, each and every Starker recording is an object lesson in great string playing. He shows us how to sculpt the sound, how to control tension and release, when to speak and when to sing. The tone is clean and focused, the interpretations commanding and inevitable, and the technique untouchable.
In short, János Starker's presence had a major impact on everyone who plays or loves the cello. The standards of execution he set have quite simply changed the way we listen to the cello now, and what "virtuoso" playing means. His teaching generations of cellists will ensure that the principles and standards will be carried forward, and his many ancillary activities enriched and enlivened the musical life, in so many spheres, and will continue to do so long as there are practioners and aficionados of the cello.
______________________________________________________________